by Carol DeMar
"Conscientious," "principled," "accountable," "honorable," and "trustworthy" are among the adjectives that describe the word responsible. In our roles as parent and teacher, raising responsible children is of utmost importance. The endless stream of people in responsible positions getting caught in illegal or inappropriate behavior gives testimony to the sad state of affairs: reporters falsifying facts in newspaper and magazine articles; a former government official stealing documents; politicians taking bribes; the list goes on. Sadly, holding a responsible position does not make the one who holds that position responsible.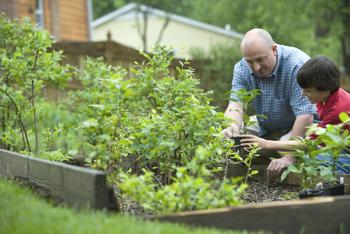 Begin in God's Word
Reasons given for the usefulness of Proverbs are listed at the beginning of chapter 1: To receive instruction in wise behavior; To give prudence to the naïve…. To the youth knowledge and discretion; A wise man will hear and increase in understanding…. The words of verse 7 always met students as they came into my classroom. The verse was printed in large black letters and attached to the wall where it could be easily seen: The fear of the Lord is the beginning of knowledge; Fools despise wisdom and instruction. Those words profoundly state what teachers and parents are to be teaching children. Training young children to fear the Lord is the first step in gaining true knowledge. Parents must begin at the beginning. Instituting a schedule upon bring your newborn home from the hospital is the start of teaching and establishing order. Man left to his own desires injects chaos into the world and then wonders why there is no peace!
Who's In Charge?
First-time parents must decide at the outset that they, not the children, will lead. Many parents have not observed good parenting skills in their own parents, and they are now modeling poor parenting to their

children. The vicious cycle will continue. How can parents expect children to learn responsibility when the parents shirk their own? The joy of parenthood is greatly enhanced when parents perform their parental role as God has commanded. Unless the Lord builds the house, they labor in vain who build it … (Ps. 127:1) reminds us that our work counts for nothing if God does not bless our labors. Raising responsible children who will be a blessing in our old age will not occur if we fail to be obedient to the word of God. Children are instructed to Hear my son, your father's instruction and do not forsake your mother's teaching … (Pr. 1: 8). Parents and children are commanded to obey the Word of God. Parents are to live righteous lives and teach righteousness to their children, who are to righteously obey. When your children willingly obey you, they are exhibiting their love for you and ultimately their love for God. If you love Me you will keep My commandments (John 14:15).
Give Children Responsibility
My father did not want us to grow up spoiled and shiftless, so he went out of his way to teach a strong work ethic, and he made sure we learned the value of responsibility. We pulled weeds on our property when we were little. One summer when I was probably 12 or 13, I was given the job of painting the utility shed. It had once housed the generator that provided electricity for the home when it was first built in the early 1900s and now was used to store lawn equipment. It took me all summer to paint that building, but I completed the job. There were times I wanted to give up, but I had made a commitment to my father, so I stuck to it, because I didn't want to disappoint him.
Ruth, the woman who helped Mother, cleaned and did laundry, but my sister and I still were taught to do household chores. I began ironing simple pieces such as my father's handkerchiefs, graduating to more complicated items as I became better at the task. I prepared dinner once a week for our family. When my sister was old enough, she did the same. Mother did not want us entering marriage unprepared. Spring cleaning was a major production at our house, lasting a week. My sister and I were expected to get up early each day and work alongside Mother and Ruth. Our younger brother did not escape learning some of the same things. He assists his wife in keeping their home tidy, and he also enjoys cooking.
My sons learned to do laundry, clean, and cook. Why do mothers and fathers think that they must do everything for their children? It is unfair to children not to teach them how to do things, whether it's caring for a home or keeping a car in good working condition. It is unfair to their future spouses also.
When homeschooling, I had a schedule and worked hard to stick to it. I used the same schedule we followed when the boys previously attended a Christian school. David and James made their beds, ate breakfast, dressed, and took care of the dog's needs before beginning class at 8:30 AM. They learned many things not taught in school books. In the afternoon, they cleaned their bathroom, laundered and ironed their clothes, helped in the kitchen, and did yard work. My daughters-in-law appreciate the fact that their husbands know how to do such things.
Don't Raise Tyrants
A neighbor asked how I managed to get my son to clean the bathroom. She and I were working in our yards one afternoon, and she had heard me telling David that he had to clean his bathroom for the third time, because he had failed another inspection to "do it correctly." I told my neighbor that I simply told my son to clean. She was awestruck, because as the mother of three children who ruled her; she did everything for them. She had two teenage daughters who expected her to be at their every beck and call. They spoke to her disrespectfully, made demands, and often refused to obey. The youngest, a son, treated her no better. Her children are neither a joy nor a blessing. As adults, they have made poor choices and have not been the delight of their parents' lives.
Irresponsibility Has Consequences
The most difficult lesson I ever learned was that one's word is your bond. If you agree to accept a responsibility, there should be no doubt that it will be done. I failed to follow through with a commitment I made to the leader of a club to which I belonged when I was ten. When my father heard about my failure to keep my word, he told me that I owed an apology to the leader. What terrible thing had I done? I had agreed to take lemonade to the next meeting of the cooking club and never showed up, because I had spent the night with my best friend and was too tired to attend the Saturday morning meeting. Sunday after church, my father drove to the apartment building where the club leader lived and waited while I went to her apartment and apologized. I was sick to my stomach with fear. My shyness was overwhelming. How could my father make me do so difficult a task? I thought he was taking my irresponsibility way too seriously. The stairs to the second floor apartment seemingly went on forever. I finally got to the top of the stairs and reluctantly and weakly knocked on the door. Maybe the club leader wasn't home or perhaps she wouldn't hear me knocking. She came to the door and could not have been more gracious in accepting my apology. That valuable lesson made a tremendous impact on me, and I have never forgotten it. Children must be held accountable for their mistakes, and parents must see to it that those mistakes are corrected by the children. If not, children will continue to be irresponsible as adults and will one day be held accountable for eternity, and then it's too late.
The Housekeeper and Gardener Quit
Teach children to put away toys and straighten up the bed. There is nothing wrong with expecting a child to clean up his mess. In fact, cleaning up should be started as soon as the child can pick up toys. Mom or Dad can help at first while the little one learns how to put toys away. This is the introduction to teaching responsibility. Parents must show the child how to take care of the toys and how to make the bed. Don't assume anything.
Cleaning up their rooms is a chore that your children should perform each day, not just when guests come to the home. I get a poor mark in this area, I'm sorry to say. Until my sons entered high school, their rooms were neat, but something happened when they were around 15-a clean room seemed remotely distant in their memories! There were moments when I wanted to place an "Enter at Your Own Risk" sign on the bedroom door. My expectations were lowered at this point, and so my sons became lazy with keeping their rooms tidy. Fortunately, our earlier training must have sunk in, because their homes, thankfully, are not pigsties, and I am tremendously relieved!
Our children were taught how to clean bathrooms, wash dishes, vacuum, dust, and all the other activities that go into keeping a home clean. They began washing their own clothes and bed linens when eight or nine years old. One son had his own ironing board in his walk-in closet and was always neatly pressed. The other son discovered a product that released wrinkles if sprayed on clean dry clothes before tossing them in the dryer for a couple of minutes. Sometimes this worked; other times he looked like he had slept in what he wore. As adults, our sons are pressed, and their homes do not resemble their former disastrous landfill-looking bedrooms! Don't give up on your children! Keep training and teaching them. One day, all that they have been taught will kick in, and they will grow into responsible adults and surprise you with their maturity. You will wonder if these are the same children who once lived in your home!
Our children cleaned and stained the deck, mowed the grass, raked leaves, and cleaned up the woods behind our house. James put in a stone walkway along one side of the house. I proposed the project and set a price for the labor if completed to my satisfaction. I was happy to pay for his labors, as the walkway turned out as well as if I had hired a company to do the job. He was also cheaper! The boys helped their father cut trees on our property and stack the wood. When they were old enough, they held part time jobs and paid for cars, gas, and insurance. They did not have to come to us for spending money.
I attended a bridal shower at the home of a family who had five sons. Some of us sat outside to eat our refreshments and enjoyed the gorgeous stonework the sons of our hostess had built and the lovely plantings they had installed at the back of the home. The work was so impressive and beautiful and looked professionally done. Those young men learned a lot, I'm sure, with that huge project. That kind of education will go with them as they establish their homes.
James and a friend began a business in high school, which they continued to manage through college. This business provided James money for expenses and for investing. He learned how to do spreadsheets, write ad copy, and how to deal with customers. Successful investing allowed him to purchase a home when he graduated from college. He chose to stay home and go to college so he could maintain the business rather than go away to school. I believe he is much further ahead by making that decision. By running a business, James gained an education far greater than the one he received in college.
David was still in college when he and Elizabeth married at age 20. They purchased a townhouse before their wedding with money they had saved. Elizabeth graduated a semester early from college, earned her MBA, and became a CPA by the time she was 23. Never once did they ask for money. They were debt free, owned a home, and had money saved when they began their marriage.
Both sons are independent, careful with money, and we do not stay awake at night worrying that they might make poor financial decisions. They are diligent workers and become frustrated with others who are lazy. They have a good work ethic. I pray that as parents, they will teach these traits to their own children. Our sons did not become the men they are overnight. It took years and years of teaching and training and lots of prayer. If it had been up to just my husband and me, our children would not be a joy to us now. God was the most important ingredient in their upbringing.
I strongly encourage you to stick to your goal of raising responsible children. There will be times you will want to quit. Sometimes you may feel as if you have hit a wall, and those stubborn little ones will never become responsible.
"Therefore I will judge you, O house of Israel, each according to his conduct," declares the Lord GOD. "Repent and turn away from all your transgressions, so that iniquity may not become a stumbling block to you" (Ezek. 18:30).
Don't give up. Love your children-do what it takes to teach responsibility in all things.