I love hummingbirds. And here's an interesting little factoid about them: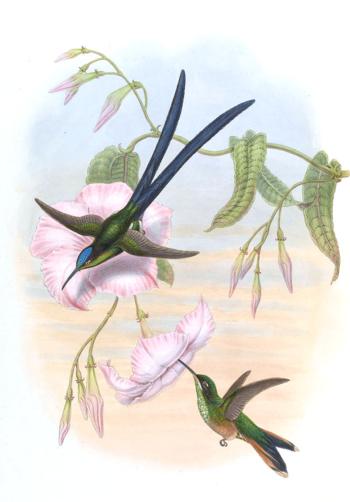 "Hummingbirds are continuously hours away from starving to death, and are able to store just enough energy to survive overnight."
I immediately thought of my anorexic experiences.
I recount my mindset, offered in my book, "Thin Enough: My Spiritual Journey Through the Living Death Of An Eating Disorder."
" …I knew that what I was doing was wrong, but I still kept going. I had to. Progress—just a few more pounds, then I'll be done. So I'd continue every morning: six hours of boot camp torture on little or no food or water. I had gotten to the point now where I feared drinking water would make me fat.
Every morning, my heart and pulse would pound and race. I could feel throbbing from veins that were sticking out on the backs of my knees and the crooks of my elbows. Every morning, I would stand up, shaky, dizzy already, only to then have everything go black. And then, I'd wake up, lying on the floor. Passing out was now a regular part of my day.
I was scared now, not only for my health, but scared of the danger of being discovered. What if I did this in front of someone? You see, these daily blackout sessions always happened during my exercise routine at midnight. I started exercising at midnight because I could be alone for my required six-hour exercise punishment…"
I didn't know it at the time, but I had my own obsessive hummingbird thing going on. It was driven by fear- and it didn't have to be that way.
Fear had convinced me the absolute worst things in the world that could happen to me were eating and gaining weight. So, the torture game became "don't eat- go as long, as far as you can without eating- just keep going."
But, what I didn't know was that this was not what God wanted for me. He didn't want to punish me; that was not His Will towards me. This, rather, was, instead:
"For I know the thoughts that I think toward you, says the Lord, thoughts of peace and not of evil, to give you a future and a hope." Jeremiah 29:11
God never created me to be like the every frenetic hummingbird. He wanted me to have a life- and one which wasn't running desperately on fumes.
"…I am come that they might have life, and that they might have it more abundantly." John 10:10
The fear I was experiencing, driving me to emaciation, exhaustion and misery was not of God.
"For God hath not given us the spirit of fear; but of power, and of love, and of a sound mind." 2 Timothy 1:7
I didn't know that at the time.
I didn't know that fear is a spirit, distorting the truth of things; fear lies to us. It tries to convince us God doesn't love us, God will fail us and life is a horrible, hopeless thing.
All lies.
God repeatedly tells us NOT to fear…
"Fear thou not; for I am with thee: be not dismayed; for I am thy God: I will strengthen thee; yea, I will help thee; yea, I will uphold thee with the right hand of my righteousness." Isaiah 41:10
"Fear not: for I am with thee…" Isaiah 43:5
"Fear not, little flock; for it is your Father's good pleasure to give you the kingdom." Luke 12:32
And he saith unto them, "Why are ye fearful, O ye of little faith?" Then he arose, and rebuked the winds and the sea; and there was a great calm." Matthew 8:26
This last scripture struck me especially hard as I looked at the words "there was a great calm."
Ever see a hummingbird? Not a lot of calm going on there.
And that's the reality check. For those of us struggling with eating disorders and obsessive/compulsive thoughts and behaviors, are we acting more like a frantic hummingbird or a peaceful child of God? Where are we falling within that spectrum? We are somewhere.
So, wherever we are, how imperfectly we are, let's first start with Psalm 46:10:
"Be still, and know that I am God…"
From there, let's live as His Child. Let's cease from our hummingbird ways.