Distortion. It's a major factor which drives disorder, compulsion and addiction.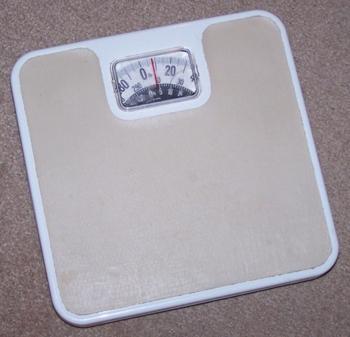 And, for those of us recovering from disordered eating and negative body image issues, a crucial centerpiece of our distortion is the scale.
We are ruled by it. We step on it daily, sometimes even several times a day. I know I did, at my worst. We feel defeat or victory, depends upon what the numbers say.
And likewise, in response to this scale obsession, we've also heard many a platitude about how "Your weight is not your worth" and "You're more than a number."
It is easier heard than believed or lived.
Nevertheless, our thoughts determine the quality of our lives.
For as he thinketh in his heart, so is he… Proverbs 23:7
Put simply, it's how you and I see things. And for most of us who struggle, the scale has loomed too large in our lives. We have completely lost perspective. We determine everything solely by what it says.
Recently, I acquired a dollhouse miniature scale; it's about an inch big. And looking at it, I see how insignificant it truly is. I can hold it on my index finger. But it has no power to decide my worth, my success or destiny. I could flick it into oblivion with my finger if I so choose.

And, I could certainly focus on how much more power God is in relation to this miniature.
Hast thou an arm like God? or canst thou thunder with a voice like him?" Job 40:9
O Lord GOD, thou hast begun to shew thy servant thy greatness, and thy mighty hand: for what God is there in heaven or in earth, that can do according to thy works, and according to thy might? Deuteronomy 3:24
O LORD of hosts, God of Israel, that dwellest between the cherubims, thou art the God, even thou alone, of all the kingdoms of the earth: thou hast made heaven and earth. Isaiah 37:16
"Remember the former things of old: for I am God, and there is none else; I am God, and there is none like me." Isaiah 46:9
It's something to consider. How big is the scale versus God when it not only comes to our bodies, weight and recovery from disorder, but concerning our very lives?
Let's reduce the scale's size when it comes to calling the shots about our worth. It doesn't; God does. And He has some great things to say about us.
"Since you were precious in my sight… I have loved you…" Isaiah 43:4
"I have chosen you and have not cast you away." Isaiah 41:9
"For I know the thoughts that I think toward you, says the Lord, thoughts of peace and not of evil, to give you a future and a hope." Jeremiah 29:11
The LORD your God in your midst, the Mighty One will save; He will rejoice over you with gladness, He will quiet you with His love, He will rejoice over you with singing. Zephaniah 3:17
Let's allow these things to be weighty in our lives instead!