One of my favorite holiday stories is "A Christmas Carol," the timeless classic, written by Charles Dickens. I've seen many adaptations of it; there have been numerous stage and screen versions, rolled out each December.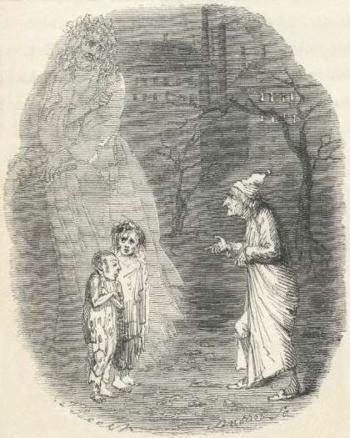 One of the constants in the story, however, is that of the boy character, Ignorance, and the girl character, Want, introduced to the Scrooge character via the Ghost of Christmas Present. They're portrayed as creature-like, snarling, hissing and clawing for attention. They make their dramatic appearance, hidden underneath the Ghost's robe.
And, the drama queen in me loves that poignant, uncomfortable scene because it's a wake-up call reality check for humanity. According to the literature classic, here's the exchange between Scrooge and the Ghost:
"Beware them both, and all of their degree, but most of all beware this boy, for on his brow I see that written which is Doom, unless the writing be erased."

(Merry Christmas, how'd you like some social justice?)
And Scrooge chimes in, ever so reasonably, with the following response…
"Do they have no refuge, no resource?"
To which the Ghost sends a zinger, using Ebenezer's own thoughtless words from earlier against him…
"Are there no prisons, no workhouses?"
Ouch. Talk about having your tuchis handed to you!
Anyway, as I've been making my way through at least four versions of the story this holiday so far, I've been struck by the power of the Ignorance and Want words and what they represent – and not just in social justice issues either. I've been viewing them through the prism of recovery. First, let's look at Ignorance, defined as being…
A lack of knowledge or education

An unawareness of something, often of something important
That's quite direct, isn't it?
How many things, even such horrible things like injustice, abuse and addiction, have been done in the name of ignorance? Yet the wreckage is still apparent and devastating.
"My people are destroyed for lack of knowledge:
because thou hast rejected knowledge…" Hosea 4:6
I know that for me, personally, this lack of knowledge – this ignorance – was the gradual descent into my eating disorder behavior. Already mired by food, weight and body image issues since childhood, an "innocent" diet led me down a dark path. When I started the diet as a teenager, my goal was not to develop anorexia and bulimia; my goal was to be thin. But I was ignorant of exactly what I was doing. And, before long, I was ensnared. It's since been a continuous and imperfect extrication, now, years later into my recovery.
The ignorance was built on the lie that my determined "answer" of being thin would make everything right, perfect and pain-free in my life. Indeed, using the word's definition, I certainly was not aware of the truly important real significance to my issues. To paraphrase the Ghost of Christmas Present, "Doom was waiting for me."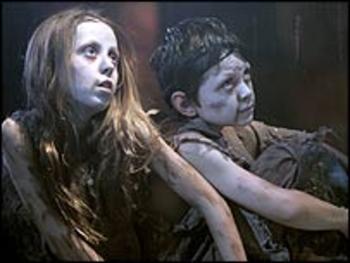 Goody.
Like Dickens' classic, the Ignorant creature in me was snarling and hissing, clawing to get away from Truth.
Can you relate in your life? What are you ignorant of, right now, in your family, your recovery and your personal issues?
But wait, we're still not done. Let's head on over to Want.
Ah, yes, Want. The word is defined as such:


To desire something: to feel a need or desire for something

To wish something done: to desire to do something or that something be done

To miss something: to feel the lack of something

Want and hunger are often represented as the same animal, aren't they?
And so, like the character from "A Christmas Carol," the want is the parasite which drives its host to obsession and compulsion. It won't stop until "it" gets what "it" wants.
Is anyone else recognizing themselves here?
In issues like addictions, vices and drives, there's this never ending black hole element, promising us-lying to us- stating we'll be satisfied once "this or that" happens.
There is a way which seems right to a man, But its end is the way of death. A worker's appetite works for him, For his hunger urges him on. Proverbs 16:25-26
And so, we turn to drugs, alcohol, food, sex, relationships and self-destructive choices, hoping our pursuit of that chosen thing will make us feel complete and healed.
Everyone's toil is for their mouth, yet their appetite is never satisfied. Ecclesiastes 6:7
And cue the snarling, hissing and clawing creature of Want. Isn't she adorable?
Each of us needs to get real with that greedy, grabby, selfish creature within us. We are fallible human beings, after all. Hate to break it to you.
For He knoweth our frame; He remembereth that we are dust.Psalms 103:14
Nevertheless, we need to acknowledge those unmet needs – or perceived unmet needs which drive us; we need to deal with our creatures. And then, to use an often quoted statement, we need to "check ourselves before we wreck ourselves."
It's not always perfectly accomplished; we fail repeatedly. Again, hate to break it to you.
But, let's allow "A Christmas Carol" serve as a reminder concerning Ignorance and Want: yes, they are creatures, but they are children as well.
That's part of why they are, indeed, so relatable. At the end of the day, that is who WE are: we are children… children of God. And Dickens, himself says about that reality…
"It is good to be children sometimes, and never better than at Christmas, when its mighty Founder was a child himself."
Ignorance? Want? Are these creatures actively in our lives? Join the club. And don't despair. We can be mindful of them and tend to them as needed in our lives WITH God's help.
God is our refuge and strength, a very present help in trouble. Psalms 46:1
In the meantime, as Tiny Tim says…
"God bless us, every one!"