A friend of mine who is experiencing some painful family issues has repeatedly asked herself the "why" questions.
Why is this happening to me?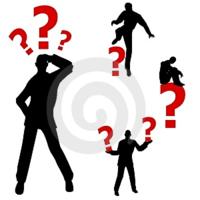 Why am I being treated like this?
Why is my loved one acting in such an ugly manner?
She has been blindsided by a situation and a relationship she never dreamed was possible, rife with betrayal, deception and slander. This was once a close, bonded relationship, one filled with unconditional love and trust.
So, the events over the last few years were a definite shock.
"Brother will betray brother to death, and a father his child; and children will rise up against parents and cause them to be put to death." Matthew 10:21
This wasn't supposed to happen.
So, why did it?
The question often produces, unfortunately, only unsatisfying silences, with, perhaps, some exceptions, as found in scripture…
"But all these things will they do unto you for my name's sake, because they know not him that sent me." John 15:21
"And ye shall be hated of all men for my name's sake: but he that endureth to the end shall be saved." Matthew 10:22
"Then shall they deliver you up to be afflicted, and shall kill you: and ye shall be hated of all nations for my name's sake." Matthew 24:9
I know, it's not comforting. But there appears to be a theme here.
"…for my name's sake."
We've all heard the phrase, "no good deed goes unpunished."
This statement is also not comforting, largely because it flies in the face of the Godly principles we've staked our faith on: good triumphs over evil, we will be blessed for our kind deeds and God is a just God.
So, how do we reconcile this with a situation in which evil appears to be winning, wicked actions are rewarded and God seems to be absent, incompetent or non-existent?
Once again, we return to our theme…
"…for my name's sake."
Living our spiritual journey, our faith will be tested; it's a case of when, not if that testing occurs.
No one is immune. It is part of not just humanity, but the spiritual experience as well.
So, like it or not, that means like Master, like servant…
"The disciple is not above his master, nor the servant above his lord." Matthew 10:24
Sooner or later, we'll encounter hurt and betrayal. After all, Jesus had Judas.
But Jesus said unto him, "Judas, betrayest thou the Son of man with a kiss?" Luke 22:48 (Check out Luke 22:3-48 for the entire gory story).
So, what makes you and I think we'd get out of our lives unscathed?
And then, complicating matters further (because, hey, life is already way too simple and easy, right?), we have to deal with our recovery issues on top of everything.
No easy feat, especially when boundaries are often blurry, at best, not everyone we encounter is in a healthy, love and life affirming place and, oh yeah, 'hurting people hurt people" is in full force.
Goody.
No, it's more like good deed rubber, meet some getting punished road.
Here's, therefore, where we need to get a bit mercenary about our health, well-being and yes, recovery. We need to remember how people vary widely- and their thoughts, motivations and issues do as well.
So, with that reality, we have the perfect storm for betrayals and persecutions of countless scenarios.
The players involved may or may not be aware of that. I've heard it said in my own faith walk how human beings are tools either in the hand of God (good) or in the hands of the devil (evil). We play a role in that; and often, yes, we can be deceived and misguided. It would be ideal and much easier if everyone always choose to be agents for good.
But we live in a real world with free will and matching free moral agent human beings who make choices- and not all of them are loving, informed or harmless choices.
Still more great news to ponder.
Yet ponder we must.
And, as we think about the varying, often unpleasant, circumstances we encounter, we need to have our reality check/action plan readied concerning our response when life presents itself.
The disciple is not above his master, nor the servant above his lord." Matthew 10:24
Nothing Pollyanna about this and it certainly doesn't make it feel any easier as we encounter and endure hardship of being hurt and betrayed from seemingly unlikely directions.
Scripture, again, reminds us…
Woe unto the world because of offences! For it must needs be that offences come; but woe to that man by whom the offence cometh! Matthew 18:7
The definition of "woe" means:
"great sorrow or distress; things that cause sorrow or distress; troubles."
So, yes…
Woe is betrayal.
Woe is slander.
Woe is deceit.
Woe is the unexpected, unloving behavior from our most unexpected loved one.
Again, Jesus had woe from Judas.
And again, it comes back to our theme…
"…for my name's sake."
Therefore, a core element of our battle plan, in spite of painful, unfair incidents, needs to employ Ephesians 6:7…
With good will doing service, as to the Lord, and not to men."
Life is tricky, filled with unanswered questions. One can drive himself/herself crazy trying to answer the 'Judas kiss" kind of experience we face from those 'least likely" individuals.
A lot can be chalked up to "things happen."
A lot can be chalked up to "life is unfair."
And yes, again, there are things which fall under the 'name's sake" classification.
"If the world hates you, you know that it has hated Me before it hated you. If you were of the world, the world would love its own; but because you are not of the world, but I chose you out of the world, because of this the world hates you. Remember the word that I said to you, 'A slave is not greater than his master.' If they persecuted Me, they will also persecute you; if they kept My word, they will keep yours also." John 15:18-20
So, it is important to bear this in mind, coupled with the seemingly impossible directive given to us concerning our troubled feelings/responses…
"Peace I leave with you, my peace I give unto you: not as the world giveth, give I unto you. Let not your heart be troubled, neither let it be afraid." John 14:27
None of this invalidates our pain, our heartbreak or our persecution.
Rather, it's to remind us there is more going on than just our finite experiences- and understandings of them.
For our light affliction, which is but for a moment, worketh for us a far more exceeding and eternal weight of glory; 2 Corinthians 4:17
There is, in fact, a Glory principle in effect; and it doesn't require we feel the positive feelings of that Glory…
But the God of all grace, who hath called us unto his eternal glory by Christ Jesus, after that ye have suffered a while, make you perfect, stablish, strengthen, settle you. 1 Peter 5:10
Now if we are children, then we are heirs–heirs of God and co-heirs with Christ, if indeed we share in his sufferings in order that we may also share in his glory. Romans 8:17
So, perhaps, instead of asking our "why questions," we should, instead, ask such things as…
What spiritual lesson is being taught to me?
How can I embody the Savior's behaviors? (Yes, I know, that rhymes).
What is the Glory test here?
It is unrealistic enough to be believe we will be unchallenged and have an easy, pain-free life experience.
Likewise, in the faith realm, when we encounter offense and human experiences which make us feel judged, betrayed and persecuted, it also unrealistic to blame that stuff solely on a human being. There is also a spiritual warfare element added to the equation…
For we wrestle not against flesh and blood, but against principalities, against powers, against the rulers of the darkness of this world, against spiritual wickedness in high places. Ephesians 6:12
And yes, that especially applies to the "Name sake" issue.
So, it would do us all some good to bear this in mind as we deal with whatever 'blindsiding" situation we face. We are not above suffering.
But, if we remember this "Name sake" principle, we also realize how, yes, we are also not removed from a deeper promise.
If ye be reproached for the name of Christ, happy are ye; for the spirit of glory and of God resteth upon you: on their part he is evil spoken of, but on your part he is glorified. 1 Peter 4:14
Indeed, it's not about being punished at all. Rather, it is about the Divine reward of Savior resemblance.
So, let's choose to experience that.