There is no more delightful fellowship than among empty, hungry, willing believers who seek one another out for no other purpose than to eat Jesus together. This Divine privilege belongs only to the Corporate Body of Christ!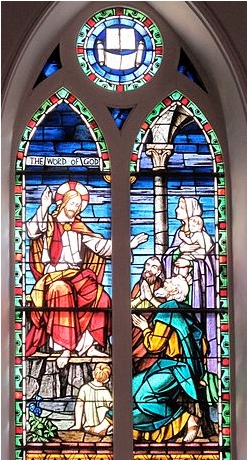 They do not talk about themselves or commiserate in self-help programs or discuss what they want to do or build in corporate self-actualization, but they simply come to give themselves together to Him and to "seek first" His corporate expression!
Their passion is to exegete Jesus (to make the Son of God known), as "Word" made flesh, and the "Word-Son" lifted from the very pages of Scripture and applied by Holy Spirit to the believer's heart! And then to take Him to the world!
Jesus is Father's living, ingestible Word – your nutritious Life. The Spirit will feed you the Word-Son by revealing Him to you primarily through the Scriptures but also by many other creative means, which enable you to recognize and eat Jesus in your study of the Scriptures. Come with me as we are invited by Jesus himself to the 'mysterious' table of God; both, individually and corporately!

48 I am the Bread of Life. 49 Your ancestors ate the manna bread in the desert and died. 50 But now here is Bread that truly comes down out of heaven. Anyone eating this Bread will not die, ever. 51 I am the Bread – living Bread! – who came down out of heaven. Anyone who eats this Bread will live – and forever! The Bread that I present to the world so that it can eat and live is myself, this flesh-and-blood self." 52 At this, the Jews started fighting among themselves: "How can this man serve up his flesh for a meal?" 53 But Jesus didn't give an inch. "Only insofar as you eat and drink flesh and blood, the flesh and blood of the Son of Man, do you have life within you. 54 The one who brings a hearty appetite to this eating and drinking has eternal life and will be fit and ready for the Final Day. 55 My flesh is real food and my blood is real drink. 56 By eating my flesh and drinking my blood you enter into me and I into you. 57 In the same way that the fully alive Father sent me here and I live because of him, so the one who makes a meal of me lives because of me. 58 This is the Bread from heaven. Your ancestors ate bread and later died. Whoever eats this Bread will live always." 59 He said these things while teaching in the meeting place in Capernaum. 60 Many among his disciples heard this and said, "This is tough teaching, too tough to swallow." 61 Jesus sensed that his disciples were having a hard time with this and said, "Does this throw you completely? 62 What would happen if you saw the Son of Man ascending to where he came from? 63 The Spirit can make life. Sheer muscle and willpower don't make anything happen. Every word I've spoken to you is a Spirit-word, and so it is life-making. 64 But some of you are resisting, refusing to have any part in this." (Jesus knew from the start that some weren't going to risk themselves with him. He knew also who would betray him.) 65 He went on to say, "This is why I told you earlier that no one is capable of coming to me on his own. You get to me only as a gift from the Father." 66 After this a lot of his disciples left. They no longer wanted to be associated with him. 67 Then Jesus gave the Twelve their chance: "Do you also want to leave?" 68 Peter replied, "Master, to whom would we go? You have the words of real life, eternal life. 69 We've already committed ourselves, confident that you are the Holy One of God." John 6:48-69,The Message
The Spirit lifts the food off the static, printed page and dynamically feeds Him to you.
"It is the Spirit who gives life; the flesh profits nothing; the words that I have spoken to you are spirit and life." John 6:63
Father is most eager to participate in this relational oneness, giving all the bounty of Himself into that Agape love "mix." The one who is well fed with the flesh and blood of Jesus has the strength to remain faithful and true to those Father entrusts to him – the Son's own tested, proven Agape love assimilated in him "never fails."
Feasting on the Word of God!
(Thanks Bob Mumford for a major part of your life's message.)