Recently, I saw of photo of a clouded leopard, lovingly gazing into its trainer's eyes. There was unconditional trust and affection in that gaze. At least, I hope it was and not an entrée selection.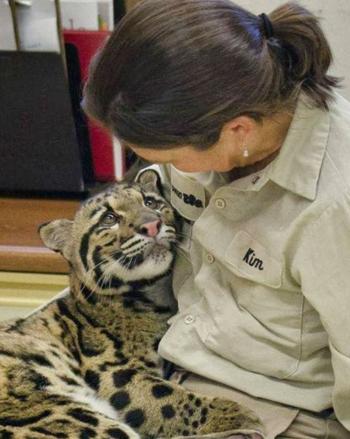 But, looking at that leopard's face, I was struck by that adoration look. It could be unconditional love or a food craving, but the emphasis is still the same. It can be person, place or thing. And that's the thing about addictions; they can also be person, place or thing. But the adoration answer is definitely there somewhere. It's the magic solution to our lives. It's the promised fix of "happily ever after."
That adoration look frequently shows up on Harlequin romance book covers. Someone is in a pirate's outfit; someone's in a bodice and petticoats. But when you look at that the cover, there's that gaze, that kind of "my life is now complete" gaze.
And that's addiction. It's addiction because it is a substitute for God, the spiritually driven hunger for connection with our first love. We may not even know He is just that. After all, God started the whole thing…