Here we are starting another new year. We are already well into this century. How time does fly. Time marches on and doesn't wait on anyone does it.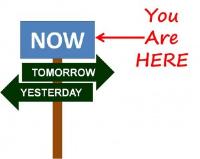 This is the season that we think of New Year's resolutions. Things we want to change such as weight, new attitudes, get out of debt, or many other things. We may be thinking and hoping for a better year than last year. We tell ourselves that we are going to do this and we have great intentions, but they tend to fizzle out in a few days.

During all this time of planning, do you ever think "where does God fit in this plan?" "I know the plans I have for you, plans to prosper you and not to harm you, plans to give you hope and a future. Then you will call on Me and come and pray to Me and I will listen to you. You will see Me and find Me when you seek Me with your whole heart," says the Lord in Jeremiah 29. Do we as His body seek Him for what His plans are for us, our families, our church, our community and nation? Do we even think about praying and seeking Him?
The Lord knew us before we were formed in our mother's womb. Before we were born we were set apart. (Jeremiah 1:5) A book of remembrance was written concerning those who fear the Lord and honored His name. (Malachi 3:16b). You have made known to me the path of life. You even fill me with joy in Your presence with eternal pleasures at Your right hand. (Psalms 16:11)
He knows the plans he has for us. If we will acknowledge his ways, he will lead us on a straight path, (Psalms 27:11) , a path of righteousness, (Psalms 23:3). He will teach us His paths, guide us in all truth and teach us. (Psalms 25:4) He calls the paths of the upright a highway, (Proverbs 15:19), and leads the upright, (Isaiah 26:7) and he even makes the path smooth. The word of God shows us in many scriptures that God has plans for us. He even has our days numbered, our hair is numbered and we are always on His mind.
So how do we find the path that God has chosen for us, as his bride and body? Do we lean to our own understanding or do we try to find the way we are to go?
We do it by getting into the Word of God. All these scriptures teach us about God's plans for us. When we read His word, meditate on it and pray, and listen to the leading of the Holy Spirit, we will know how to find that path.
In his heart, a man plans his course, but the Lord determines his steps. (Proverbs 16:9) God has planned these paths since before the beginning of time. We are His workmanship created in Christ Jesus to do good works, which God prepared in advance for us. (Ephesians 2:10)
So before you make a lot of plans that you probably won't keep anyway, lets seek the face of God:
1. Through His Word. Spend time daily in the word. David gave the Lord the beginning of the day when he first got up.
2. Through prayer. Spend time daily seeking the face of God for answers to your life's problems. Jesus spent many hours in prayer, communing with His Father, Why do we think we do not need to.
3. Give him a tithe of your time. David gave Him the best of his day. We have 24 hours a day. Wonder what would happen if we spent 2 and ½ hours a day with God. I would say we would find a lot of the answers to what is going on around us.
If you do not spend time in the word, in prayer seeking the face of God, you will not know how to respond to the many trials we go through here on this earth. The word gives us answers to all the problems we face today, and it shows us how to deal with things, how to treat each other and how to worship and love our Maker. He will fill you with His love, His peace, His joy, His mercy and grace. This will spill out in your life. People can tell if you are spending time in the presence of the Lord. It will spill out in all areas of your life. You will have joy unspeakable, you will have peace that passes all understanding through all trials and tribulations, you will have mercy and show grace on others. You will think of others before you do yourself. You will take on more of a servant attitude. Jesus came to serve, not be served. We should use His example on how we are to live our life.
Do you want to make a difference to those around you? What about your children? What about those in your family who are lost? How do we do this? Through the washing of the Word that renews our mind. Our goal should be to have the Mind of Christ Jesus.
No eye has seen or ear has heard or no mind has conceived what God has prepared for those who love him. 1 Corinthians 2:9 Seek ye first the kingdom of God and His righteousness and all these things shall be added unto you.
So as far as your plans, see what God's plan is for your life. Join in where he is working. Seek His face and He will show you. He is waiting in the secret place for you. He is desiring that time, he wants to pour out His love on you. He wants to show you mercy and grace. He wants you.
I heard a story this morning. There was a man who was bragging about all that he had. He said, "turn to the east, all the land you see is mine. Turn to the south, all the land you see if mine. Turn to the west and all the land you see if mind. Turn to the north and all the land you see is mine." The man he was speaking to him looked up and pointed toward the heaven and said, "And how much of this do you own?" Our plans are to be His plans. He knows the desires of your hearts. He knows everything about you my friends. Seek Him. Love Him. Worship Him. Desire Him. Praise Him. Glorify Him. He is worthy!
Read the word, meditate on it, pray, seek His face, and you will see the changes you are desiring. They will come in a way that you were not expecting. See how your life and those around you will change. He loves you.
Copyright 2009 by Debbie Tucker, Used by Permission