Living in Minnesota right now, I am in mourning… and its color is purple.
Unless you've been living under a rock, you've heard the news that singer, rock star and lightning rod of controversy, Prince had died. On April 21st, 2016, he was found dead in his Paisley Park home… in the elevator. He was 57.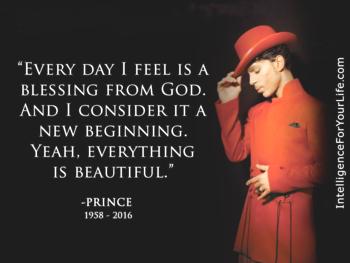 It was an enormous shock to the world. Just imagine what the experience was for Minnesotans.
Yeah.
You might be wondering why I'm writing about Prince, of all people, in this Christian recovery forum. You, perhaps, may believe he was a creator of "the devil's music," encouraging all kinds of sin, debauchery and strange behavior.
I ask that you please stay with me for a few moments.
Something struck me within minutes of hearing the news of his discovery in the elevator. It was later confirmed by American record executive, musician, songwriter and record producer, L.A Reid. He revealed a private conversation he once had with the artist.
Prince asked him, concerning his lyrics to the song, "Let's Go Crazy,"
"You know what the elevator is, don't ya? It's the devil."
Yes, these lyrics…

"And if the elevator tries to bring you down
Go crazy, punch a higher floor."
~Lyrics from "Let's Go Crazy," Prince Rogers Nelson
Eerie.
And poignant.
For, say what you will about the man, but one cannot deny how his musical genius regularly fused spirituality and sensuality, deep emotions and poetic beauty. I dare you to go look for clips of some of his award winning moments, including the Academy Awards, for which he won for his film, "Purple Rain." In many of those acceptance speeches, something unheard of, especially in the 1980's, he thanked God.
Take that in for a moment.
Again, say what you want about him, have differing opinions of his conduct or artistry, but you cannot deny his influence.
And it's this influence which grabs my attention.
Seeing things through the filter of scripture and faith, I find his lyrics, his faith message and his death in the elevator powerful and profound.
The elevator…evil… the devil… the cautionary warning to us all…
Making the best use of the time, because the days are evil.Ephesians 5:16
Be sober, be vigilant; because your adversary the devil, as a roaring lion, walketh about, seeking whom he may devour. 1 Peter 5:8
Put on the whole armor of God, that ye may be able to stand against the wiles of the devil. For we wrestle not against flesh and blood, but against principalities, against powers, against the rulers of the darkness of this world, against spiritual wickedness in high places. Ephesians 6:11-12
For those of us in recovery, we especially understand the pull and the temptation of that force which threatens to take us down.
And yes, it is evil.
But, in this meditation, let us never forget the hope and the antidote to that very real evil.
It is the very real Presence of the Most High…
Even though I walk through the valley of the shadow of death, I will fear no evil, for you are with me; your rod and your staff, they comfort me. Psalm 23:4
The thief cometh not, but for to steal, and to kill, and to destroy: I am come that they might have life, and that they might have [it] more abundantly. John 10:10
There hath no temptation taken you but such as is common to man: but God is faithful, who will not suffer you to be tempted above that ye are able; but will with the temptation also make a way to escape, that ye may be able to bear it. 1 Corinthians 10:13
In our culture today they say celebrity and fame are influence. Some of you out there may believe I'm blaspheming the Most High. You may take issue with how I'm mentioning the Presence of God in the same sentence as a "carnal and secular" celebrity.
But I challenge you with these scriptures…
For by him were all things created, that are in heaven, and that are in earth, visible and invisible, whether they be thrones, or dominions, or principalities, or powers: all things were created by him, and for him. Colossians 1:16
Through him all things were made; without him nothing was made that has been made. John 1:3
For from him and through him and for him are all things. To him be the glory forever! Amen. Romans 11:36
Let the life, the artistry and yes, even the death of Prince all serve to remind and help each of us, as we struggle against our own elevators, whatever they may be.
Again…
For from him and through him and for him are all things. To him be the glory forever! Amen. Romans 11:36
"And if the elevator tries to bring you down
Go crazy, punch a higher floor."
Amen.