A scene from an episode of the final season of "Mad Men" captures a self-doubt moment beautifully. The exchange is between the protagonist, Don Draper and that of his protégée, Peggy Olsen. She recently turned thirty years old and, like most of us, life had not turned out how she expected it would. Peggy has a moment of self-doubt, one to which Draper responded…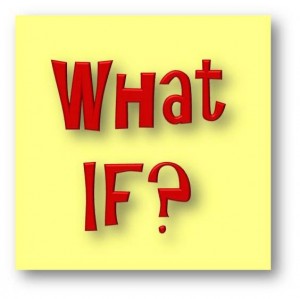 "I worry about a lot of things. But I don't worry about you."
Worry. We have a lot of it in life. We worry about our jobs, our families, our place in this world and our recovery if we struggle with addictions, disorders and compulsions. We worry, even though "fear not" is mentioned by God numerous times in scripture. We cannot seem to help it.
So, where does all of this worry stem from? How about from a thought? Check yourself and see if you have ever thought some of these things about yourself.
"I'm nobody special…"
This is a biggie, hitting our core identity and our value. Most of us have encountered lying thoughts about ourselves here. Bullying, abuse and peer pressure often lead us to believe we're worthless and unwanted.

But God states the contrary…
"I have chosen you and have not cast you away." Isaiah 41:9
"Since you were precious in my sight… I have loved you…" Isaiah 43:4
All things were made by him; and without him was not anything made that was made. John 1:3
And because He is His Word (Genesis 1:1; John 1:1), He's not fretting about us the way we are. He knows what He's doing and how to handle us. And He is, indeed, handling us.
But we human beings still have trouble believing it. And so, more worry…
"But what if…"
This thought is dedicated to those of us control freaks (you know who you are). And yes, worry warts are also always welcome too.
We can "awful-ize" any particular situation, playing "what if" games with ourselves, but never playing the game to its end. So, there's a lot of up in the air anxious uncertainty plaguing us.
It's Chicken Little's "the sky is falling" on steroids!
But here's the good news; God's thoughts are different from ours!
"For my thoughts are not your thoughts, nor are your ways my ways, says the LORD. For as the heavens are higher than the earth, so are My ways higher than your ways, and My thoughts than your thoughts." Isaiah 55:8-9
Before you and I ever thought one catastrophic, despair-filled thought, God knew about it and purposely thought differently. He thought according to love, prosperity, health and blessing. He's thinking it right now!
And that's why, regardless of what is or is not happening, God's in control; He's leading and guiding this thing called our lives…
Trust in the LORD with all your heart;
and lean not on your own understanding.
In all your ways acknowledge Him,
and He shall direct your paths. Proverbs 3:5-6
"But I've made too many mistakes…"
Still, we tend to worry, spiting that Truth of that scripture, don't we? We obsess about our imperfections, our sins, our faults. We can even freak out about how much God is freaking out about our less than perfect selves. We think He's appalled and fed up with us. He's not. He knew what He was getting into when He took us on…
For all have sinned, and come short of the glory of God; Romans 3:23
And He's committed to helping us, even when we screw up.
"Fear thou not; for I am with thee: be not dismayed; for I am thy God: I will strengthen thee; yea, I will help thee; yea, I will uphold thee with the right hand of my righteousness." Isaiah 41:10
For all of our shortcomings, none of us is too difficult for Him.
"Behold, I am the LORD, the God of all flesh. Is there anything too hard for Me?" Jeremiah 32:27
He's not intimated by us and whatever mess may exist in our lives. He has it under control.
"But it's hopeless…"
Yes, most of us have our despair thoughts running amock. We come up with all kinds of reasons why it's hopeless for us. We don't see a blessed future.
But again, God thinks and executes His Plan for us differently…
"For I know the thoughts that I think toward you, says the Lord, thoughts of peace and not of evil, to give you a future and a hope." Jeremiah 29:11
…being confident of this very thing, that He who has begun a good work in you will complete it until the day of Jesus Christ." Philippians 1:6
To use Mad Men terminology? God is saying, "I don't worry about you."
The challenge for us is to take Him at His Word.