Abstinence: Still the Best Choice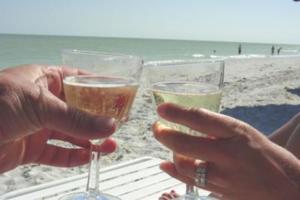 As a person who has struggled with addiction to alcohol and drugs, I would be foolish to drink. But what about the Christian who has never had such problems? Is there anything wrong with what is considered social drinking? I believe there are at least five compelling reasons why abstinence should be the norm for all followers of Christ:
The cost to society.
Nationwide one in four families is experiencing alcohol related problems. It is estimated that 20-25 percent of all hospital costs result directly from alcohol misuse and abuse. People without Christ drink mainly to fill a spiritual void that only Christ's presence can fill. Therefore, Christians who do know Him ought to stand out in this fallen world by not being identified with this destructive spiritual counterfeit.

The children.
By the time they turn 14, 30 percent of boys and 22 percent of girls drink alcohol, many weekly or even daily. Alcohol-related trauma is the leading cause of death for those ages 1 to 19. There is a spiritual principle that what one generation excuses in moderation the next can excuse in excess. We must protect our children by setting the example of abstinence.
The weaker brother.
Paul wrote, "It is better not to eat meat or drink wine or to do anything else that will cause your brother to fall." (Romans 14:21, NIV) At a Christian drug rehab center where I was director for 10 years, our board, staff, and volunteers were expected to abstain from alcohol. Why? To set a good example to those who were struggling to recover from alcohol and drug addiction. We never wanted them to think, He's a strong Christian; if it's OK for him to do it, it must be OK for me to do it too.
The danger.
If it were discovered today, ethanol (the active ingredient in beverage alcohol) would have to be tested by the FDA before it could be marketed to the consumer. It would likely be listed as a controlled substance, sold only by doctor's prescription. In over 20 years of working with alcoholics I have found only one common denominator — all started as social drinkers. No one plans to become an addict. No one can safely assume he or she is immune from the seductive and addictive nature of ethyl alcohol. This is especially true if one has a history of family alcoholism. Not drinking at all is the one guaranteed way to keep from becoming an alcoholic.
Our enemy.
We are in a life and death struggle for our souls. In 1 Peter we are admonished, "Be of sober spirit, be on the alert. Your adversary, the devil, prowls about like a roaring lion, seeking someone to devour." 1 Peter 5:8, NASB
We have enough difficulty discerning Satan's activities when we have a clear mind. But if our spiritual sensitivity is clouded by intoxicants, we are more open to his deception and control. No wonder we need to take Paul's exhortation to heart: "Do not get drunk on wine, which leads to debauchery. Instead, be filled with the Spirit." Ephesians 5:18, NIV