Recently, I saw of photo of a clouded leopard, lovingly gazing into its trainer's eyes. There was unconditional trust and affection in that gaze. At least, I hope it was and not an entrée selection.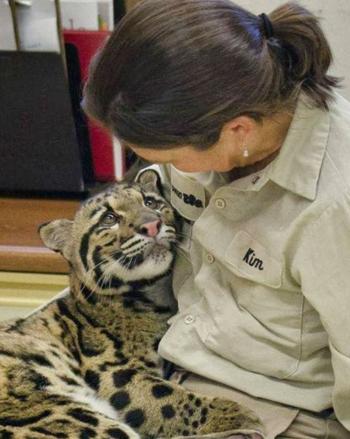 But, looking at that leopard's face, I was struck by that adoration look. It could be unconditional love or a food craving, but the emphasis is still the same. It can be person, place or thing. And that's the thing about addictions; they can also be person, place or thing. But the adoration answer is definitely there somewhere. It's the magic solution to our lives. It's the promised fix of "happily ever after."
That adoration look frequently shows up on Harlequin romance book covers. Someone is in a pirate's outfit; someone's in a bodice and petticoats. But when you look at that the cover, there's that gaze, that kind of "my life is now complete" gaze.
And that's addiction. It's addiction because it is a substitute for God, the spiritually driven hunger for connection with our first love. We may not even know He is just that. After all, God started the whole thing…

We love him, because he first loved us. 1 John 4:19
Love- adoration- desire- God invented it.
The LORD hath appeared of old unto me, saying, "Yea, I have loved thee with an everlasting love: therefore with lovingkindness have I drawn thee." Jeremiah 31:3
So, where does it go wrong then? Answer: when we get involved (big shocker there). We get it confused, taking our own eyes/attention off from God and having it traipse somewhere else, to…I don't know…to our chosen object of addiction…and BOOM! There we are, staring at that thing lovingly, obsessively and, sooner or later, destructively.
We believe the lie we've found our reason to live and therefore, go on living/breaking a notorious commandment:
Then God spoke all these words, saying, "I am the LORD your God, who brought you out of the land of Egypt, out of the house of slavery. You shall have no other gods before Me." Exodus 20:1-3
We believe our answer is found independent of God.
Big mistake. In fact, it's deadly.
Let no one say when he is tempted, "I am being tempted by God"; for God cannot be tempted by evil, and He Himself does not tempt anyone. But each one is tempted when he is carried away and enticed by his own lust. Then when lust has conceived, it gives birth to sin; and when sin is accomplished, it brings forth death. James 1:13-15
Fun, fun, fun. We insist that, sooner or later, our addictions and compulsions will deliver. God has become obsolete. But God is where it's at. That's the real promise…
Delight thyself also in the LORD: and he shall give thee the desires of thine heart. Psalm 37:4
No Harlequin book cover or leopard required. Being connected to God as that first and true love is the answer. And it's the only thing that will work. God loves us and is enthralled with us…
The LORD your God in your midst, the Mighty One will save; He will rejoice over you with gladness, He will quiet you with His love, He will rejoice over you with singing. Zephaniah 3:17
At the core, with God…
Love never fails… 1 Corinthians 13:8
And without God…
What profiteth the graven image that the maker thereof hath graven it; the molten image, and a teacher of lies, that the maker of his work trusteth therein, to make dumb idols? Woe unto him that saith to the wood, Awake; to the dumb stone, Arise, it shall teach! Behold, it is laid over with gold and silver, and there is no breath at all in the midst of it. But the LORD is in his holy temple: let all the earth keep silence before him. Habakkuk 2: 18-20
So, it would do us some good to love God, as we're instructed to do…
He answered, "Love the Lord your God with all your heart and with all your soul and with all your strength and with all your mind;" and, "Love your neighbor as yourself." Luke 10:27
It takes just as much time, energy and focus to devote our adoration look to God as it does to our addictions and compulsions. We may believe it's not fun or too difficult, but God is the only working focus of our adoration.
And, on top of that, we have His help…
God is our refuge and strength, a very present help in trouble Psalms 46:1
"I will instruct you and teach you in the way you should go: I will guide you with My eye."Psalm 32:8
So, let's ponder our adoration. Where does it lie? "Oh come let us adore Him" isn't just a lyric from a Christmas carol. How do we respond to it?
Again, God responds to us THIS way…
The LORD hath appeared of old unto me, saying, "Yea, I have loved thee with an everlasting love: therefore with lovingkindness have I drawn thee." Jeremiah 31:3
Let's focus on reciprocating!