Humility is not something regularly taught these days. Preachers focus on salvation, on relationships, and some focus on integrity (though not many). But it's been a long time since I heard someone teach on humility. Peter has an interesting take on humility. He states that it is the foundation of all relationships: "You must cloth yourselves with humility in your dealings with one another." For me, there are three aspects to humility when I deal with those around me.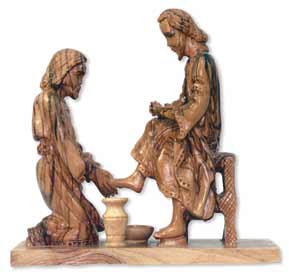 1 Peter 5:5-9 NRSV
And all of you must clothe yourselves with humility in your dealings with one another, for "God opposes the proud, but gives grace to the humble." Humble yourselves therefore under the mighty hand of God, so that he may exalt you in due time. Cast all your anxiety on him, because He cares for you. Discipline yourselves, keep alert. Like a roaring lion your adversary the devil prowls around, looking for someone to devour. Resist him, steadfast in your faith, for you know that your brothers and sisters in all the world are undergoing the same kinds of suffering.
First, I need to put their needs and desires above my own. The apostle Paul wrote:
Do nothing from selfish ambition or conceit, but in humility regard others as better than yourselves. Let each of you look not to your own interests, but to the interests of others. Philippians 2:3-4 NRSV
This seems wrong in our society of self-focus that we should think of the needs of others before we think of our own needs. In fact, we have been taught — rather strongly — that we must love ourselves, that we must look to our own needs before we are able to look after others. However, in God's kingdom, that is a wrong approach.
We must first (and always) look to the needs of others, regarding their needs as more important than our own.
Second, we must trust God to take care of our needs. You see it can seem that if I fail to seek my own needs, I will be left wanting. Not at all! In fact, my looking after the needs of others, I then am allowing the Creator and Master of the universe to take care of looking after my needs. Paul writes:
And my God will fully satisfy every need of yours according to his riches in glory in Christ Jesus. Philippians 4:19 NRSV
The amazing thing is that God doesn't just supply my needs, but every need and according to His riches in glory. And those needs are supplied through Christ Jesus who gave everything for me. If that is the case, won't God supply everything I need when I need it? Then why should I worry about my needs? Peter wrote (in the passage above): "Cast all your anxiety on him, because He cares for you." How much better is the Father at caring for me than I am at caring for myself. I can cast all of my anxiety on Him. I can tell Him of my worries, my concerns, my anxiety and then leave it all with Him, knowing — knowing — that He will take care of it in the absolutely best way.
Third, because this kind of lifestyle is against all of my natural inclinations, I need to discipline myself in it. I need to learn how to turn away from my own desires and to learn how to see the needs and desires of others. It won't be easy, but it is possible. And it is something that I am going to start doing today.