Deuteronomy 28:7
"The Lord will cause your enemies who rise against you to be defeated before you; they shall come out against you one way, and flee before you seven ways."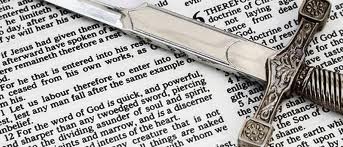 Every believer has enemies. In fact, every believer has three enemies: Satan and his hoards, sin, and our own mortal flesh. Notice that I didn't mention other people… precisely because our warfare isn't against other people (for whom Christ also died), but against principalities, powers, and spiritual wickedness (Ephesians 6:12). But we do have enemies and we should be doing battle everyday against those enemies. The wonderful thing is that those enemies are already defeated. In fact, they don't simply skulk away from the direction they came. The Lord routes them in seven different directions! They fly pell mell, unable to even chart a course, due to their fear of the Lord's armies.

As soldiers in the army of God, we have our orders and our method of fighting. Of course, since the enemy is already defeated, we only have to stand and resist.
Therefore take up the whole armor of God, so that you may be able to withstand on that evil day, and having done everything, to stand firm. Stand therefore, and fasten the belt of truth around your waist, and put on the breastplate of righteousness. As shoes for your feet put on whatever will make you ready to proclaim the gospel of peace. With all of these, take the shield of faith, with which you will be able to quench all the flaming arrows of the evil one. Take the helmet of salvation, and the sword of the Spirit, which is the word of God. Ephesians 6:13-17 NRSV
We are fighting defeated foes, enemies that are already simply dust. One swing of the sword (one mention of scripture) and the enemy runs… if we stand firm. Of course, if we put an arm around the enemy and embrace him, we strengthen him and allow him into our lives. It is always our choice.
A noted Hollywood stunt man died last week. He was acclaimed for having been the man in the Darth Vader costume during the sword fighting scenes. But, as I read the article, he also had been teaching sword fighting to actors for many years.
Teaching… sword fighting.
We are not born knowing how to fight. We are not, even when we are born again, endowed with the knowledge and ability for spiritual fighting, for using the sword of the Spirit. It is something that must be studied and practiced. In order to use the sword of the Spirit, we can't simply wave our printed Bibles around; we must know what's in the word and be able to use God's promises and His word at a moment's notice. I treasure Your word in my heart, so that I may not sin against You. Psalm 119:11 NRSV What is treasured in my heart? Is it sports stats? My children's accomplishments? Quotes from a favorite movie? The plots of the newest TV shows? Or is it God's word? If I want to become an accomplished spiritual fighter — the kind for whom God sends the enemies fleeing in seven different directions — then the treasure of my heart needs to be His word and nothing more.