Do not be conformed to this world, but be transformed
by the renewing of your mind, that you may prove what is that good
and acceptable and perfect will of God. Romans 12:2 NKJV
Over the years one of the questions I get asked most often is, "How do I know God's will in my situation?" At the risk of sounding trite, discovering God's will in any situation or circumstance really isn't that difficult. God doesn't play guessing games with us, and He doesn't delight in making us take wild guesses only to discover we did the wrong thing. God's will for us is outlined perfectly in the Scriptures, but that's where we run up against problems.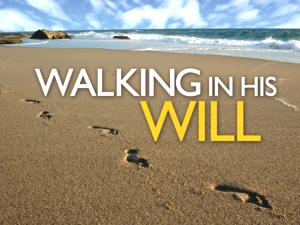 Why is that? It's certainly not because God has failed to give us all we need in the way of a roadmap to arrive safely at the right destination. Not only did He give us the Bible as written instructions, but He also sent His Son to model the selfless existence He has called us all to live.
No, the problem isn't that God hasn't prepared the way for us; the problem is that we fail to avail ourselves of all He has supplied. Jesus lived the perfect life that none of us can achieve on our own. As the only sinless Person to ever walk this earth, Jesus not only lived a perfect life but He died an unjust death, the one that you and I deserved. Best of all, He rose again from the grave, fulfilling His promise to open the door for us to receive eternal life.
But Christianity isn't just about making sure we have "fire insurance" when we die. It's about growing up and becoming a mature believer, one who looks, acts, and speaks more like Jesus as the years roll by. And that begins with changing our mind and beginning to see things from God's perspective, rather than the world's.
The world is at odds with God. Worldly opinions will always be based on an all-about-me mindset; God calls us to a selfless life that puts Him and others ahead of ourselves. Though it's a lifetime process, that change doesn't happen automatically. It happens as we daily spend time in the Scriptures, reading and meditating and memorizing—and letting God's Spirit "renew" our mind, word by word and line by line.
When I find myself thinking or behaving in a way that is contrary to God's Word, I know I need to repent and spend more time in the Scriptures, getting my mind "washed" and redirected. As I do that, I soon discover that I knew God's will in a specific matter all along; I just needed to switch directions and begin to understand the situation from God's viewpoint instead of my own.
The best part is that once I've done that and my mind is clear and settled on doing God's will, regardless of the price or consequences, I can move ahead in perfect peace and joy. And there really is no better way to live than that, is there?