While sifting through my childhood toys, I happened upon some Weebles.
What are they – and what do they do?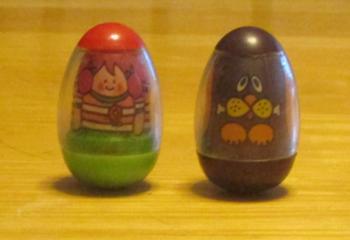 "…an egg-shaped Weeble causes a weight located at the bottom-center to be lifted off the ground. Once released, gravitational force brings the Weeble back into an upright position… The popular catchphrase, 'Weebles wobble, but they don't fall down.' was used in advertising during their rise in popularity…" https://en.wikipedia.org/wiki/Weeble
As I was reunited with these toys, I remembered how, in my playtime, I often tried to put my Weebles to bed, lying them on their sides, only to watch them quickly spring to their vertical stance again. There was no keeping these suckers down.
"Weebles wobble but they don't fall down."
You better believe it.
Therefore, reacquainting myself with them in my adult life, I now view them through the recovery/struggle context and the famous Serenity Prayer:

"God grant me the serenity to accept the things I cannot change;
courage to change the things I can; and wisdom to know the difference."
Indeed, there is some Weeble revelation to be found, should we choose to embrace it.
First, God is addressed:
"God grant me…"
Right away, we need to acknowledge our Source. What is it?
God is a Spirit: and they that worship him must worship him in spirit and in truth. John 4:24
Concerning addiction, we often get it wrong as most of us already possess a unique vulnerability to our personal manmade substitutes. This makes us wobbly.
What profit is the idol when its maker has carved it, or an image, a teacher of falsehood? For its maker trusts in his own handiwork when he fashions speechless idols… And there is no breath at all inside it. Habakkuk 2:18-19
We can designate our chosen idol which supposedly promises to solve our lives; however, that doesn't mean it will deliver.
"Go and cry unto the gods which ye have chosen; let them deliver you in the time of your tribulation. Judges 10:14
Still, we struggle with its untrue magical thinking. Somehow, we believe it will fill, love, help, soothe, protect and entertain us. And that temptation is precisely why the Most High is first mentioned within the Serenity Prayer.
For God is not the author of confusion, but of peace… 1 Corinthians 14:33
When we are tempted (and we will be), we need to recognize this is disorderly confusion, not Divine intervention.
By directing our attention to the only Source of our help, the realization comes in: we cannot do anything, let alone, stay sober, in and of ourselves.
The Most High God is the Divine, much needed, Weeble response to our pathetic attempts at substitution; you cannot keep Him down. And that is especially helpful to our weak selves.
There hath no temptation taken you but such as is common to man: but God is faithful, who will not suffer you to be tempted above that ye are able; but will with the temptation also make a way to escape, that ye may be able to bear it. 1 Corinthians 10:13
The acceptance of that Truth opens the door for grace's revelation in our healing process.
Serenity Equals Resting in His Grace…
"…the serenity to accept the things I cannot change…"
And God is able to make all grace abound toward you… Ephesians 2:5
How much grace are we given?
All grace.
No, really, how much grace are we given?
ALL Grace!
This is the acknowledgement that we are not running this show. This all-important element, therefore, sets the stage for our necessary rest stop.
Therefore my heart is glad… my flesh also shall rest in hope. Psalms 16:9
That covers our struggles with addiction, compulsion, relapse and human imperfection. When our addictive cravings seek to bring us low, Divine, abundant grace, again, pops up with undeterred Weeble-like resilience- often, is spite of us.
"My grace is sufficient for thee: for my strength is made perfect in weakness…" 2 Corinthians 12:9
So, the challenge is to accept, not resist, that Truth: grace is designed to help us when we need it the most and deserve it the least.
Let us therefore come boldly unto the throne of grace, that we may obtain mercy, and find grace to help in time of need. Hebrews 4:16
There is nothing within Hebrews which places conditions upon us getting ourselves cleaned up beforehand. Come as you are, whatever condition that may be.
And, by our imperfect faith/confidence in that reality, we, therefore, become emboldened, readying ourselves for the next tenant of the Serenity Prayer.
Courage:
"… courage to change the things I can…"
Doing a scripture search concerning this prayer component, it's not too long before I ran into Joshua. He's impossible to avoid in this courage context.
Only be thou strong and very courageous, that thou mayest observe to do according to all the law, which Moses my servant commanded thee: turn not from it to the right hand or to the left, that thou mayest prosper whithersoever thou goest Joshua 1:7
"Have not I commanded thee? Be strong and of a good courage; be not afraid, neither be thou dismayed: for the LORD thy God is with thee whithersoever thou goest." Joshua 1:9
And the LORD said unto Joshua, Fear not, neither be thou dismayed: take all the people of war with thee, and arise, go up to Ai: see, I have given into thy hand the king of Ai, and his people, and his city, and his land. Joshua 8:1
Get the point yet?
Indeed, in Joshua 1:5-9, the Matthew Henry Commentary explains…
Joshua… is charged to meditate therein day and night (on scripture), that he might understand it… He is to encourage himself with the promise and presence of God. Let not the sense of thine own infirmities dishearten thee; God is all-sufficient… When we are in the way of duty, we have reason to be strong and very bold…
We need to regard our recovery as an important form of duty; it's stewardship of our significant purpose as much as it is taking care of our physical vessels and the health represented. It's no easy or comfortable feat.
The definition of courage is "the ability to do something that frightens one."
Fear is the threat to push us down into collapse.
But again, the Divine Weeble response is to arise, even while we mortals "do it afraid" in our circumstances.
What is that most personal "it" to each of us then? It is something.
"…Be strong and of good courage, and do it: fear not, nor be dismayed: for the LORD God, even my God, will be with thee; he will not fail thee, nor forsake thee…" 1 Chronicles 28:20
Because we are not alone in this life, we have the capacity to face it and deal with our lives. Experiencing this reality teaches us translatable skills and confidence.
Wisdom: Putting It All Together:
Therefore, buoyed with a Source beyond us, as well as our own unique encounters with grace, acceptance and courage, we are now further challenged to put everything into relevant action, via the final attribute of the prayer.
"… and wisdom to know the difference."
This life-changing gift starts, once again, with our acknowledgment: we don't know what we're doing.
For what I am doing, I do not understand. For what I will to do, that I do not practice: but what I hate, that I do. The Apostle Paul in Romans 7:15
This scripture, to me, encapsulates the addictive brain. We don't understand why we do self-destructive things. Yet, we are repeatedly pulled to that which threatens to destroy our lives.
He that hath no rule over his own spirit is like a city that is broken down, and without walls. Proverbs 25:28
Therefore, the Divine Presence of Wisdom becomes a survival tool in our life kit.
Yes, while the Twelve Steps fully concur we are helpless to face addiction completely on our own independent terms, it still does not change
Divine Wisdom's vital, realistic role for each one of us. It acts as protective guardrails for our comprehensive sobriety.
Hear counsel, and receive instruction, that thou mayest be wise in thy latter end. Proverbs 19:20
A famous statement asserts, "Knowledge is not power; the APPLICATION of knowledge is power."
Wisdom, therefore, is that application device.
And, indeed, we are endowed with a spirit of wisdom, provided we don't choose to fight it.
We are not the all-knowing, all-seeing God. Therefore, because of this, we are encouraged to ask for divine assistance.
Hear counsel, and receive instruction, that thou mayest be wise in thy latter end. If any of you lack wisdom, let him ask of God, that giveth to all men liberally, and upbraideth not; and it shall be given him. James 1:5
Hear counsel, and receive instruction, that thou mayest be wise in thy latter end. "Ask, and it shall be given you; seek, and ye shall find; knock, and it shall be opened unto you:" Matthew 7:7
However, this asking thing can often be a gigantic stumbling block for us to practice.
For there exists within our minds such toxic thoughts as…
God will not help and guide me.
God wants to punish me.
I'm just not good enough to get the wisdom/help I need.
This, however, is not Truth; it's only damaging lies, brought about from our own flawed backstories, whatever they may be.
Wisdom, again, within the context of Truth, the Serenity Prayer and the powerfully resilient Weeble response, dares us to believe, accept and APPLY the other factors to our lives: the Most High God (who IS NOT us), grace, acceptance and courage.
Instrumental to that process is scripture itself.
In the beginning was the Word, and the Word was with God, and the Word was God. The same was in the beginning with God. John 1:1-2
You cannot separate Divine Nature from Divine Response.
The Word is eternal; your circumstances are timely. Trust the eternal."
~Pastor Tommy Tenney
Scripture reassures us of His Nature. He desires health, healing, life and blessing for us.
For I know the thoughts that I think toward you, says the Lord, thoughts of peace and not of evil, to give you a future and a hope. Jeremiah 29:11
That Nature assures us He will lead, guide and help us.
Your ears shall hear a word behind you, saying, "This is the way, walk in it, whenever you turn to the right hand, and whenever turn to the left. Isaiah 30:21
"I will instruct you and teach you in the way you should go: I will guide you with My eye." Psalm 32:8
Trust in the LORD with all your heart; and lean not on your own understanding. In all your ways acknowledge Him, and He shall direct your paths. Proverbs 3:5-6
It sounds like Wisdom – or the APPLICATION of wisdom – to me.
The trick is this; WE have to apply it.
Sometimes, "apply" simply means "remember."
When life gets hectic, when temptations pulls, when "it" seems unsurmountable, sometimes, what we first need to do is pause and allow for wisdom's presence, be it new instruction or remembrance of an eternal reality. Wisdom, gently and directly calls…
For God hath not given us the spirit of fear; but of power, and of love, and of a sound mind. 2 Timothy 1:7
It is the vertical Weeble motion springing to life, even in the midst of logic, situations and, often, our most difficult obstacle, ourselves.
You have felt and acted wobbly; so have I. This does not catch the Most High off guard. He knew our moments of collapse, relapse and struggle.
He knew the doubt, the sin, the failings and the situations erecting themselves as "impossible."
He knew.
Thankfully, however, our wobbliness does not cancel His desire and ability to spring to action and keep us "in all of our ways" (Psalm 91:11).
This exists because of His love; this exists because we are His beloved Creation.
So, the next time you stumble across the Serenity Prayer, stop and think about the unassuming Weeble.
Through him all things were made; without him nothing was made that has been made. John 1:3
Dare to embrace Divine, Loving Victory; bask in its serenity…
"Weebles wobble, but they don't fall down."
Indeed. Amen.