1 John 2:4-6 NRSV
Whoever says, "I have come to know Him," but does not obey His commandments, is a liar, and in such a person the truth does not exist; but whoever obeys His word, truly in this person the love of God has reached perfection. By this we may be sure that we are in Him: whoever says, "I abide in him," ought to walk just as He walked.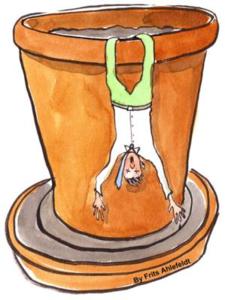 Do you ever get tired of being sacrificial? Of feeling like you're the only one who gives in, who ministers, who forgives? I do. I have even wondered why God refuses to take up my cause and make things happens the way that I want them to happen. Which, of course, is the problem. Because the Lord Jesus never demanded that things happen in His own way.

Do nothing from selfish ambition or conceit, but in humility regard others as better than yourselves. Let each of you look not to your own interests, but to the interests of others. Let the same mind be in you that was in Christ Jesus, who, though He was in the form of God, did not regard equality with God as something to be exploited, but emptied Himself, taking the form of a slave, being born in human likeness. And being found in human form, He humbled himself and became obedient to the point of death—even death on a cross. Philippians 2:3-8 NRSV
When John talks about believers walking as the Lord Jesus walked, he is talking about this description in Philippians. The Lord Jesus did nothing from selfish ambition or conceit, but regarded our need for salvation as being more important than life itself. He looked to our interests.
This is hard for me to do, particularly when someone has harmed me (usually again and again). The world tells us that we need to look out after ourselves, to mind for our own needs, to tend to ourselves. Scripture tells us something totally different. Scripture tells us that we are to be obedient to God, putting aside our own needs and looking to not only the needs but the interests of others. For what we might think is only an interest, rather than a need, might actually be a need for that person. And we are here to provide for others… and to trust God to provide for us.
Love is patient; love is kind; love is not envious or boastful or arrogant or rude. It does not insist on its own way; it is not irritable or resentful 1 Corinthians 13:4-5 NRSV
Love doesn't insist on its own way, but rather is patient and kind. Love—God's agape love—understands that it was necessary to provide salvation for us even when we were sinners. There was no other way. In a similar manner, God's love in me must reach out to others while they are sinners and in need. There is no other way because there is no righteousness except in Christ. If I wait for people to "deserve" my love, that day will never come. And my love will be useless. God understood that and loved us even when we didn't deserve it (and we will never deserve it!). And He calls on us to walk as He walks, to love as He loves, and to trust Him with everything else.