One of my favorite television series, "Mad Men" offers up a scene in which one ad mad conveys this message to another character:
"Stay out of it."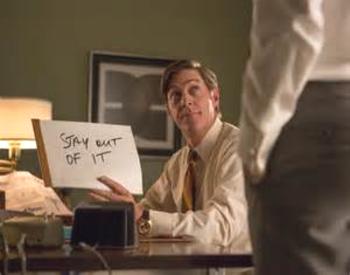 Hmmm. Sometimes, that is sometimes spot-on spiritual advice, isn't it?
Meddling or helping- which one is it each of us are doing at any given time?
This becomes an especially valid question concerning our own self-interest. And, c'mon, be honest, most of us are EXTREMELY self-interested.
The entertainer, RuPaul states it this way:
"Someone else's opinion of me is none of my business."
This quote can be an incredible lifeline in the context of people pleasing, versus effective recovery and a purposeful life.
Yes, in an ideal world, everyone would love us, think highly of us and have nothing but the best things to say about us. But, do we live in an ideal world?
So, there will be chatterboxes, gossips, critics and even enemies out there. And guess what they'll all come armed with? Offenses.
"Woe unto the world because of offences! For it must needs be that offences come; but woe to that man by whom the offense cometh!" Matthew 18:7
Yep, those critters often don't feel great to our egos, our feelings and our outlook on life.
And we can get ourselves in an incredibly unproductive, self-flogging snit, obsessing about why "so and so" thought or said what about us.
At the end of the day, it doesn't really matter. After all, reality check, Jesus had more than His share of naysayers, critics and enemies…
Now the Passover and the Festival of Unleavened Bread were only two days away, and the chief priests and the teachers of the law were scheming to arrest Jesus secretly and kill him. Matthew 26:4
Then the Pharisees went out, and held a council against him, how they might destroy him. Matthew 12:14
And consulted that they might take Jesus by subtlety and kill him. Matthew 26:4
Then from that day forth they took counsel together for to put him to death. John 11:53
You get the point.
So, why should we expect to glide easily and unchallenged through life?
"The disciple is not above his master, nor the servant above his lord." Matthew 10:24
Scripture, therefore, is an important filter, screening with accurate perspective, what is the true intent of a thought, word or deed…
"And the LORD thy God will circumcise thine heart, and the heart of thy seed, to love the LORD thy God with all thine heart, and with all thy soul, that thou mayest live." Deuteronomy 30:6
But, O LORD of hosts, that judgest righteously, that triest the reins and the heart, let me see thy vengeance on them: for unto thee have I revealed my cause. Jeremiah 11:20
For the word of God is quick, and powerful, and sharper than any twoedged sword, piercing even to the dividing asunder of soul and spirit, and of the joints and marrow, and is a discerner of the thoughts and intents of the heart. Hebrews 4:12
Bottom line: our lives are far too important to worry about each and every opinion out there. We have too much to do.
So, concerning the next offense which breezes your way, ask yourself if God really wants you occupied with it? Test the spirits…
Beloved, believe not every spirit, but try the spirits whether they are of God: because many false prophets are gone out into the world.
Hereby know ye the Spirit of God: Every spirit that confesseth that Jesus Christ is come in the flesh is of God:
And every spirit that confesseth not that Jesus Christ is come in the flesh is not of God: and this is that spirit of antichrist, whereof ye have heard that it should come; and even now already is it in the world.
Ye are of God, little children, and have overcome them: because greater is he that is in you, than he that is in the world.
They are of the world: therefore speak they of the world, and the world heareth them.
We are of God: he that knoweth God heareth us; he that is not of God heareth not us. Hereby know we the spirit of truth, and the spirit of error.
1 John 4:1-6
Perhaps, the Most High God would rather you "stay out of it." Perhaps He has better ways for you to be blessed in how you spend your time.
In all of our "staying out of it" then, let's remember there's a quite helpful "do…"
Trust in the LORD with all your heart; and lean not on your own understanding. In all your ways acknowledge Him, and He shall direct your paths. Proverbs 3:5-6
Less "busybody," more productive child of the Most High. Let's all choose well.