James 1:17
Every generous act of giving, with every perfect gift, is from above, coming down from the Father of lights, with whom there is no variation or shadow due to change.
I'd like to say that I hate to waste time. I mean, I can sit in meetings and fume at how slow everything goes and what inane questions others ask. I can be just as impatient with Father God Who is — according to my way of thinking — working much too slowly and holding me back from my life's ambitions.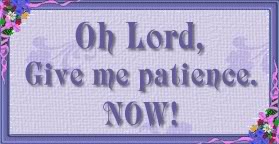 The fact is, I hate to wait. But, if I am truly honest, it's more that I want to control my time and my efforts. I want to lallygag and waste time when I want to

do it and I want to get moving and get things done on my own terms. What I'm beginning to realize is that God often gives us "down time" as a gift, as a time for us to turn from the busyness of our own lives (and our own agendas) to, instead, focus on Him (which is what we should have been doing in the first place) or to prepare us for the unseen times ahead. In fact, what I see as hindrances to my plans (and to what I think are His plans) may actually be His working in my life to refocus me on His priorities and His will, rather than my own.
I know that God works everything for my good according to His own will and His infinite resources (Romans 8:28). I also know that everything He gives to me is perfect according to His holy character. But in those times when I seem to be thwarted in my own designs, it's difficult to give up my dreams and plans in order to understand that He is working His will in my life.
In a nutshell, it's often hard to wait.
Over the past years, American society has seen enormous financial changes. People who were firmly on career tracks are unemployed. Many who were happily settled in their homes are now renting elsewhere. Retirement plans are adrift. There are those who are wondering if God forgot us? Or if this some kind of punishment for social sins? And yet, what if it is neither? What if this seeming upheaval is simply His perfect gift of time and refocus so that we can again look to Him instead of ourselves for our riches?
A. W. Tozer wrote: "Earthly riches cannot procure human happiness." And while all of us would heartily agree, likely many of our errant thoughts run to the idea of somehow getting "just enough" money to live worry-free. A better job. Winning the lottery. Receiving an inheritance. Watching the stock market soar. When, in fact, happiness cannot — cannot — be tied to happiness because happiness only come with shalom — peace with God. And money cannot buy that.
Unfortunately, so much of our contemporary doctrine focuses upon having a "perfect" life here and now: good health, prosperity, the American dream (our own home and a chicken in the pot on Sunday afternoon). And we can become so centered on asking God for these things that we forget our entire purpose in life: to go into the world and preach the gospel. Our job isn't to provide for us; that's God's job. OurJob is to tell others of His marvelous grace, mercy, and love. Our job is to warn others of their future while God takes care of our present. The fact is, every encounter that we have in life should have only one purpose: to look for that opportunity to share the gospel. We often pray in church for God to bring in those who would come to hear the message. We've got it all backwards. We need to go out and share, invite, love, and witness. If we do that, God will very perfectly take care to give us every gift that we need for everything else.