I think that betrayal is the worst experience in life. Most things are easy to rise above, or, if necessary, easy to endure. You simply put one foot in front of another and walk through it. But betrayal breaks the spirit. It makes you want to say, "What's the point?"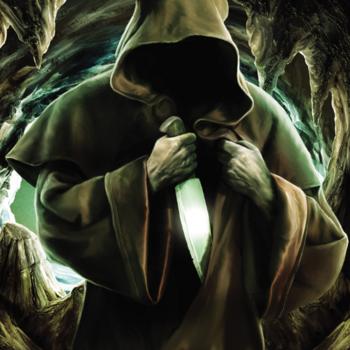 The human spirit will endure sickness;
but a broken spirit — who can bear?Proverbs 18:14 NRSV
Betrayal exists all around us. Most of the times, we set ourselves up. We create expectations of relationships, of circumstances, and when things don't work out the way we planned or intended or hoped, we are betrayed. And it hurts. It hurts a lot! In these situations, however, we need to look within ourselves. Were our expectations unreasonable? For example, we usually expect that our employers will treat us fairly. Our expectations are based on the idea that our employers, our jobs are the source of our income, our livelihood. In these cases, our expectations are unreasonable. Our job isn't the source of our income; the Lord is! And He never fails. So it doesn't matter whether or not we lose our job. He will provide.

The Israelites were living in slavery to the Egyptians. Many died each day under the whips of their taskmasters. God freed them and took them in the desert where He feed them daily with manna provided from heaven. They no longer had to work (except to gather the manna and make it into bread or cakes). And even then, they complained:
From Mount Hor they set out by the way to the Red Sea, to go around the land of Edom; but the people became impatient on the way. The people spoke against God and against Moses, "Why have you brought us up out of Egypt to die in the wilderness? For there is no food and no water, and we detest this miserable food." Numbers 21:4-5 NRSV
Their expectation was something different than their experience. God was providing for them and they still complained. We need to ask ourselves if God is providing and yet we're still complaining? (Do we see our glass as half full or half empty?)
However, there are those situations where betrayal exists even when our expectations have been right on. Take family for instance. We have certain expectations about how our parents should behave, how our children should behave, how our spouses should behave. If we have done all that we are supposed to do (under God's commands) and betrayal still occurs, it hurts. It hurts immensely. The hurt is real … and it is legitimate. This proverb is true when it says: "A broken spirit — who can bear it?" There is the real sense of not wanting to go into another relationship again because of the betrayal from the first one.
It is in these times that we must turn to God for His healing. I always go back to the cross. When the Lord Jesus was crucified, while He was dying on the cross, He said,
"Eli, Eli, lema sabachthani?" that is, "My God, my God, why have you forsaken me?" Matthew 27:46, Mark 15:34
The Lord Jesus wasn't asking if God had forsaken Him; He was asking why God had forsaken Him. The fact was there. Jesus expected the Father to be with Him always and God wasn't.
The worst kind of betrayal.
But the Lord Jesus Himself is our example in the midst of betrayal. Only minutes after speaking this, He says, "Father, into your hands I commend my spirit." Luke 23:43 Do you get this? Jesus commends His spirit to the very person who betrayed Him. Now, I'm not saying to commend yourselves to the person who betrayed you. I'm saying that God is faithful and true and we can commend ourselves to Him, even when it appears that He has betrayed us! Our betrayal has a place of refuge… under the wings of the Almighty who is loving and gentle and meets every need.