Knowing this, that our old man is crucified with him, that the body of sin might be destroyed, that henceforth we should not serve sin. For he that is dead is freed from sin. Romans 6:6-7
The saying, "you can't have your cake and eat it too is an old saying but very true."
On the same token, spiritually we can say, "You cannot live in the kingdom of heaven and continue to be a slave to your desires or "serve sin" as apostle Paul puts it.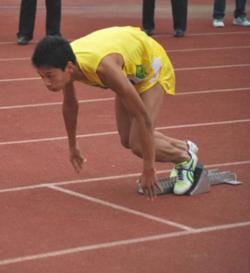 We have to run the race marked out for us and it is not ALWAYS going to be easy. Apostle Paul even says we must keep our focus on Jesus Christ at all times.
I press toward the mark for the prize of the high calling of God in Christ Jesus. Philippians 3:14
Apostle Paul was writing metaphorically. The mark was a white line that marked the ground in the stadium in Rome. The runners were obliged to keep their eyes fixed on this white line, for if any of the runners went beyond this white line (the mark), transgressed and ran the race unlawfully, and were not crowned, even though they got first to the goal.
The real race is the kingdom of heaven and keeping our eyes focused on Jesus Christ!
Many of us are not even running the correct race; we think we are running the race that leads into the Kingdom of heaven but we're running a race that keeps us in the world with its worldly desires. We have crossed the white line because we have not kept our focus on "the mark" for the prize of the high calling of God in Christ Jesus. (Philippians 3:14)
Have you crossed the white line and gone beyond what you should, desiring that which is not of God? Are you living your life beyond the white line? Paul is letting people know that if you cross over the white line and then run the race you will not receive the crown of life, the prize.
And if a man also strive for masteries, yet is he not crowned, except he strive lawfully. 2 Timothy 2:5
The way into the kingdom of heaven cannot be done with foolishness, pride or self righteousness. We should strive to walk with diligence, humbleness and faith, keeping our eyes on Jesus Christ and the precepts thereof.
Living in ways that are contrary to the Words of our Father is not accepting His discipline for our lives, and means we have taken our eyes off the mark and gone beyond the white line.
Our Father has a lot to say about staying out of the world and its desires and to remain in Him. In fact, He says, giving up our desires and pleasures of this life is the only way to "see" and "enter into" the kingdom of heaven. Many people are so busy just trying to manage their fleshly affairs of this world they don't see the kingdom of God.
Feel good ministries keep many Christians lackadaisical about God's expectations for them and sadly they live their lives thinking they have received the crown because of this Christian attitude. No one wants to be told how to live so they make up their own boundaries and morals according to worldly standards, all the while thinking this way of living is pleasing to God.
This is the whole problem! Where is the faith in God!?
Some people find the message too hard to follow because they are so wrapped up within the fleshly way of doing things they cannot accept what is not seen; they want to be told only what makes them feel good at the time, without sufferings and trials…without faith…
…But without faith it is impossible to please God. Without following in God's discipline and instruction we will not please God and we will not receive the crown!
Most people (remember the WAY is narrow) are running a race to please their own desires and then they claim to be following Christ! How can this be? This is what Paul is referring to; they have gone beyond the white line. Their eyes are not fixed on (the mark) Jesus Christ, but rather fixed on what they desire and what they want. They have gone beyond the white line.
God's Holy Word is our discipline but only when we apply what it says into our life. If we are not walking in "the ways of our Lord and Savior" then we are discounting God's discipline for our lives. A Christ-one NEEDS to be a talking, walking example / witness of what Christ preached; we are the church!
Examine your lifestyle today. Would your lifestyle be a good one for others to emulate? Are you a good example of Christ's church?
Christ-ones are to be Christ's ministry; Christ's church, keeping the message of life alive in the world through their daily living / life!
Behold, happy is the man whom God correcteth: therefore despise not thou the chastening of the Almighty: Job 5:17
There are many temptations in the world that lure people. These are worldly traps. There are also many things in the world that only"seem" good but are actually not good at all.
These are also worldly traps; we have to carefully look at our daily walk and see where we may be in error that leads us to doing things that are not Christ-like in our walk. And we have to pray daily and ask God to give us discernment to know the difference between right and wrong.
We have to keep our eyes on the mark of Jesus Christ!
Do you remember when you were a small child and your parents disciplined you? Perhaps they sent you to your room, or maybe they paddled you, or had you stand in the corner, or gave you a long talking. They did these things out of love because they wanted you to grow up to be a good person and know right behavior from wrong behavior.
Our Father does the same thing. He does not make you stand in the corner and he does not paddle you either, but negative circumstances in our life are a direct result of not keeping our eyes on "the mark". This is how we know that what God says for our lives is true and real! Now it's time to live God's plan for our lives.
Consequences and results of keeping our eyes fixed on Christ are numerous blessings in our lives! It is amazing the wonderful blessings that God does for those who keep their eyes fixed on Him!
He corrects and disciplines with loving words and shows us what we need to do through stories and parables, principles and precepts, and simple instructions written down in the Holy Book.
For they verily for a few days chastened us after their own pleasure; but he for our profit, that we might be partakers of his holiness. Hebrews 12:10
Now no chastening for the present seemeth to be joyous, but grievous: nevertheless afterward it yieldeth the peaceable fruit of righteousness unto them which are exercised thereby. Hebrews 12:11
We must keep our eyes fixed on the prize.
I press toward the mark for the prize of the high calling of God in Christ Jesus. Philippians 3:14