Prayer, as defined in the NKJV Study Bible, is based on the Hebrew verb palal, as noted in God's words to King Solomon when the Lord appeared to him the second time following Solomon's dedication of the temple: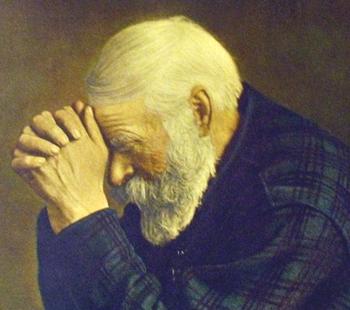 Then the Lord appeared to Solomon by night, and said to him: 'I have heard your prayer, and have chosen this place for Myself as a house of sacrifice. When I shut up heaven and there is no rain, or command the locusts to devour the land, or send pestilence among My people, if My people who are called by My name will humble themselves, and pray and seek My face, and turn from their wicked ways, then I will hear from heaven, and I will forgive their sin and heal their land.
The word "pray," as used above in , means "'to intervene,' 'to interpose,' 'to arbitrate,' or even 'to judge.' The Lord was asking His people to intercede for others in their prayers." (NKJV Study Bible, Second Ed., p.671)
So, what does it mean "to intercede for others in prayer?" According to the NKJV Study Bible, based on the Greek words enteuxis and entugchano, translated "intercession," this term refers to "the act of petitioning God or praying on behalf of another person or group. The sinful nature of this world separates human beings from God. It has always been necessary, therefore, for righteous individuals to go before God to seek reconciliation between Him and His fallen creation. The sacrifices and prayers of Old Testament priests were acts of intercession that point forward to the work of Christ. Christ is, of course, the greatest intercessor." (NKJV Study Bible, Second Ed., p.1914)

What was it about the prayer that King Solomon made on behalf of his people during the dedication of the temple that exemplifies intercessory prayer and therefore led the Lord to respond so favourably? Let's take a look at the plea of Solomon and see what we can discover:
Then Solomon stood before the altar of the Lord in the presence of all the assembly of Israel, … knelt down on his knees before all the assembly of Israel, and spread out his hands toward heaven; and he said: "Lord God of Israel, there is no God in heaven or on earth like You, who keep Your covenant and mercy with Your servants who walk before You with all their hearts. You have kept what You promised Your servant David my father; You have both spoken with Your mouth and fulfilled it with Your hand, as it is this day. Therefore, Lord God of Israel, now keep what You promised Your servant David my father, saying, 'You shall not fail to have a man sit before Me on the throne of Israel, only if your sons take heed to their way, that they walk in My law as you have walked before Me.' And now, O Lord God of Israel, let Your word come true, which You have spoken to Your servant David.
"But will God indeed dwell with men on the earth? Behold, heaven and the heaven of heavens cannot contain You. How much less this temple which I have built! Yet regard the prayer of Your servant and his supplication, O Lord my God, and listen to the cry and the prayer which Your servant is praying before You: that Your eyes may be open toward this temple day and night, toward the place where You said You would put Your name, that You may hear the prayer which Your servant makes toward this place. And may You hear the supplications of Your servant and of Your people Israel, when they pray toward this place. Hear from heaven Your dwelling place, and when You hear, forgive."
There are four aspects of King Solomon's prayer in his intercession for the people of Israel that are important for us to employ as a model, knowing that when we do so, the Lord will hear and respond to our petitions:
1. He placed himself in the presence of the Lord.

2. He praised God on the basis of his knowledge of his Almighty Lord's character, which he had learned from his study of the Scriptures, as well as from his earthly father, King David, and from his own intimate, personal relationship with his God and Father.

3. He based his supplications on the Word of God and the promises of God found in that same Word, so that he was seeking the will of the Lord, and not his own will and desires.

4. He prayed with an attitude of faith, humility, and submission to the Lord his God.
In the coming weeks, I will discuss each of these points on an individual basis so so as to hopefully give a deeper understanding of the significance and role of each aspect of intercession in our prayer lives.
~ * ~
by BAPearl