"No good thing will He withhold, from those who walk uprightly." Psalm 84:11
This may seem to be a surprising statement at first glance. Does God withhold no good thing from His people? We must focus on the word "good". It is not merely the things which we want–that God always gives. Nor is it not the things which we think are good–that God gives. Perhaps they are not really 'good things'–as God sees them. We must always leave to Him–to decide whether they are good or not. He is wiser than we are–and knows just what effect on us, the things we crave would have. We must submit all our requests to Him–for final revision and approval, when we make them.
This is the teaching about prayer, so prominent in the New Testament, which bids us to add to all our most earnest pleadings: "Nevertheless not my will–but may Your will be done." If the thing we ask for does not come–we must therefore conclude that in God's sight, it is not a "good thing" for us. Thus it is–that God's withholdings are as great a blessing to us–as His bestowings!
There is another phrase here, which we must study. It is "from those who walk uprightly" that God will withhold no good thing. It is only when we are walking obediently, in God's ways–that we have a right to claim this promise. For, "if I regard iniquity in my heart–the Lord will not hear me!" Psalm 66:18
~ J. R. Miller, "Readings from the Psalms", 1912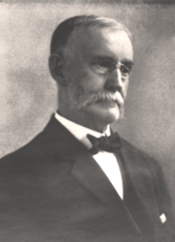 James Russell Miller (March 20, 1840 – July 2, 1912)
was a popular and prolific Christian author.