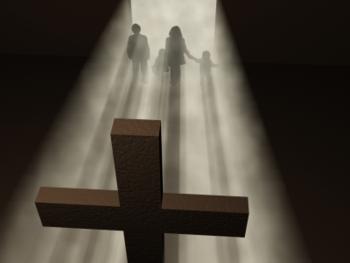 When thinking of pornography and Christianity and the issue of control, things get quite interesting. Matthew 18:3 informs us:
And he said: "Truly I tell you, unless you change and become like little children, you will never enter the kingdom of heaven."
On the other hand it seems intuitive that the repetitive use of pornography is proof that our "internal adolescent" has wrested away the controls in the command center of our brain and what is needed is a return of control to the superego. We long for simple joys, simple trust, unconditional love but there is no denying that we physically are no longer children and we can get into some very big trouble.
Does the path to spiritual/emotional/sexual maturity take a detour through the domain of Mr. Rogers?
Can we actually look at the world through the eyes of a child again and be filled with wonder?
The Childhood Pew
A thief once stole my childlike view
That used to sit on polished pew
With open, eager, willing eyes
Uncluttered with a world disguise
Unmuttered were the words of hate
That later would around me skate
Inscribing on a frozen pool
The mantra of a tribe of fools
Untattered was the cloak of love
That seamless seemed to darkness shove
Connecting to a force above
Protecting those in shadow of
But all that changed when slippery thief
Broke in my world and stole belief
Left me open to the spears
Of life and doubt and frets and fears
Until sore wounded I would crawl
Across the ice with curses scrawled
With tattered clothes that reeked of sin
And mattered eyes with vision grim
I found the blood-soaked battered feet
That walked the death reversing street
Restoring Life to those who choose
A second time…the childhood pew.