When you pass through the waters, I will be with you, and through the rivers, they will not overwhelm you. When you walk through the fire, you will not be burned or scorched, nor will the flame kindle upon you. Isaiah 43:2 NIV84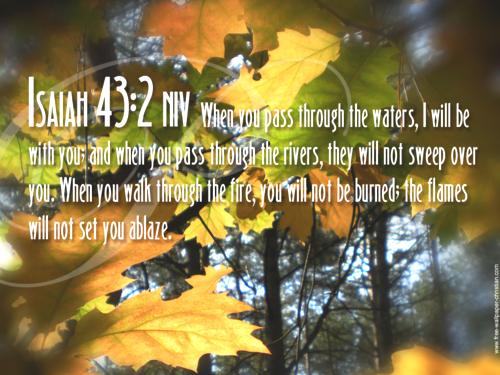 The tears ran down my cheeks in never-ending rivers, as congestion choked off my breathing and and rage threatened to overwhelm me. "Why can't I just be calm?" I cried out to Jesus!
I thought I had peace in my heart about my impending Mom's death before she was gone, but now that it had become a reality and the Lord had called her Home, there seemed to be no end to the waves of anxiety, depression, rage, despair, agitation, frustration, and every other emotion but calm that seemed to be rushing at me. I could not understand why, with so much faith in God, and knowing that I had not wanted my beloved mother to suffer, I was so angry now. Then my pastor called to ask me how I was doing, and I honestly shared with him the truth. He prayed that I would allow the Holy Spirit to comfort me in my grieving, and that I would find the acceptance of the Truth that my mother is now in the glory of our Lord Jesus Christ. That is when it hit me: I was angry at God because I wanted Mom to stop suffering, but I had wanted her to stop suffering here! The Lord had not done things my way, and so I was not accepting her death. And because I was in denial, the rage I was experiencing was preventing me from entering into the loving arms of my Saviour to surrender my emotions to Him. Without that surrender, I could not find peace.

And so now, when I close my eyes, and I see those beautiful blue eyes of my precious mother and best friend, I let the tears flow, but I have allowed them to become the river of tears that I am passing through with Jesus, as I thank Him that my Mom is now dancing in His loving arms; for she loved to dance. Now when I close my eyes and I see my Mom's gentle face before me, I do not try to block the view because of the pain of knowing I can no longer go and see her in the physical realm; instead, I give thanks and praise to God that we will embrace again when we He calls me Home to be with Him after I have fulfilled my purposes for Him on this earth. Now when I see an ornament or other reminder of the beauty that was my mother, instead of wanting to sleep to forget, I pray that I can live a life that will honour both the Lord Jesus and her loving memory. Today, when I touch the arm of the chair that was in her room at the nursing home, and I am reminded of the softness of her skin, instead of wanting to run and hide, I am grateful for God's faithfulness in granting me my prayer to be with my mother in her dying moment to hold her hand and walk her Home where her Abba, Father now strokes her hand and holds her in His everlasting embrace of love forever.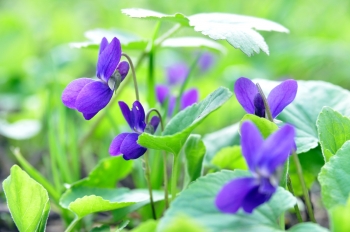 I know I am not finished grieving the loss of my mother's physical presence: it has been less than two weeks since she left her earthly home to be with her Saviour. But I do know that, as long as I keep bringing my hurts, my joys, my memories, my pains, my trials, my highs, and my lows to my Shepherd, I will not want for anything, for truly He is faithful. Though I may feel overwhelmed, always He is right here to scoop me out of the waters if my face threatens to go beneath the surface. Always He is right here with me to wash me with the waters of His soothing baptism of mercy and compassion when I feel I am aflame in the rage of an emotional storm. And always He is right here to reassure me that I am unconditionally loved and accepted, that I am walking in His grace, and that I do not have to be perfect. I am allowed to feel my way through the anguish of this valley of physical death, even while I celebrate the joy of her eternal life. Praise be to God, He promises me, [I]shall feed [My] flock like a shepherd:
[I] shall gather the lambs with [My] arm, and carry them in [My] bosom, and shall gently lead those that are with young. Isaiah 40:11 NKJV
For I know my mother, who was like a gentle lamb, is now in His arms, held tenderly against Jesus' bosom, and He is feeding me on His Word, nourishing and nurturing me through this torrent of emotions and assuring me every day, whispering in my ears:
"Though the mountains be shaken
and the hills be removed,
yet my unfailing love for you will not be shaken
nor my covenant of peace be removed." Isaiah 54:10, NIV84
Praise be to God forever in Christ Jesus our Lord!
Are you suffering the loss of a loved one, something near and dear to your heart?Let the Lord minister His comfort, mercy and compassion to you today through His Living Word.
~ by BAPearl