Have you been struggling with feelings of despair, fear, and anxiety? Do you think you let God down so He cannot possibly love you anymore?
I remember when I was so paralyzed by fear that I could not get out of bed in the morning. What seemed like endless nights tormented me as I lay awake through torturous hours filled with anxiety and loneliness. Yet the shafts of early morning light were only painful reminders to me that another long, empty day was ahead of me. I had lost the ability to look at anything through a positive lens, and my incessant negativity had driven away the few friends that I had known. I longed to be near the Lord, but I did not know how to reach Him. For I had given up on the promise of God found in Hebrews 13:5 Amplified Bible: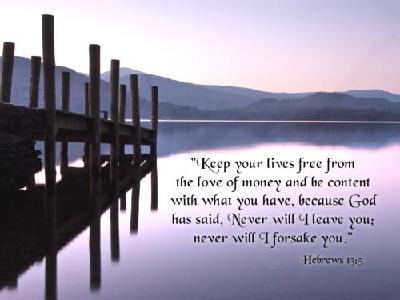 Let your character or moral disposition be free from love of money [including greed, avarice, lust, and craving for earthly possessions] and be satisfied with your present [circumstances and with what you have]; for He [God] Himself has said, I will not in any way fail you nor give you up nor leave you without support. [I will] not, [I will] not, [I will] not in any degree leave you helpless nor forsake nor let [you] down (relax My hold on you)! [Assuredly not!].

How could I possibly be contented with my present circumstances? And how could I not want money? If I had money and earthly possessions, like a car, a decent place to live and some nice clothes, maybe I could get out and meet someone and have a decent life! How could God tell me He would never let me down? How could He say that He will not in any degree leave me helpless or without support? My husband had left me, and so had all my friends, And I was no longer able to work due to anxiety, depression, and social phobia so severe I was afraid to answer my phone or door, or to leave my apartment to take my dog out.
However, God does not lie, and His words in Matthew 11:28 were about to be demonstrated to me in a powerful way:
"Come to Me, all you who labor and are heavy-laden and overburdened, and I will cause you to rest. [I will ease and relieve and refresh your souls.]," Matthew 11:28, Amplified Bible
As I cried out to the Lord, asking Jesus for relief from my pain, He gave me an invitation to enter His rest by giving Him my anguish in exchange for personal relationship with Him. He showed me that I could not come to Him with my hands filled with my own burdens and cares, and at the same time, attempt to receive from Him His goodness and rest — all the blessings He had for me.
The word "bless" means "to empower," and Jesus wanted to empower me by infusing me with His strength. Then I could receive all the wonderful things He had stored up for me to enjoy every moment of this life on earth, and not wait until I die to enjoy my eternal life. But I was preventing Him from "downloading" His power to me by being filled with my own anxieties. That is why He says in the following verses: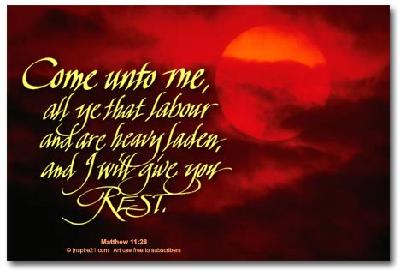 "Take my yoke upon you and learn from me, for I am gentle and humble in heart, and you will find rest for your souls. 30 For my yoke is easy and my burden is light." Matthew 11:29-30, NIV
Until I lay down my cares, my burdens, I cannot take Jesus' yoke upon me, for my hands are full! This seemed so simple, yet I had not seen it before. I also had not realized that I did not need to worry and fear, for Jesus cares about me, and I have nothing to fear with His tender and all-Sufficient care of me:
"I am the good shepherd; I know my sheep and my sheep know me — just as the Father knows me and I know the Father—and I lay down my life for the sheep. John 10:14-15, Amplified Bible
This was such a comfort to me, as Jesus reminded me of how deep and high and long and wide his love for me really is — so great that He willingly laid down His life for me. When I was reminded of this, I began to consciously give Jesus my worries each time I found myself anxiously fretting over something. And when I found that I was too fearful to focus mentally on prayer, I began to write out my prayers in a journal. This really helped me to keep my mind on my Shepherd, and as I spent time each morning and night with my Bible, pen, and journal, the verses of the Scriptures began to soothe my restless soul. Each time I found myself worrying and frightened, I refocused my mind on a favourite verse and meditated on or spoke that verse aloud, or both.
I did not know what to expect when I first began this journey with the Lord, but after several weeks I began to feel significant relief from my anxiety, and within months, the Lord had surpassed all expectations that I had had of Him — although I confess my expectations were very low. But I have to say that I have been set free! For not only was I able to sleep at nights, I also discovered an anticipation for the mornings and my time with the Lord. Furthermore, instead of fearing going outside, I sought out a Christian counselor who could help me learn how to get the most out of my Christian journey, and I started walking my dog and biking again. Today, I can honestly say that I cherish my life and am thankful for every moment.
Truly, my Shepherd has shown me that He has given His life for me, and His blood has paid the penalty for my wrongs past, present, and future. I can come before Him in boldness, knowing that I need not fear punishment, but instead, I can joyfully celebrate that I am forgiven and victorious — righteous because of the finished work of Jesus on the Cross for me. I do not have to live in fear, trying to measure up to an impossible standard of perfection. I can dwell in the safety of God's loving arms, letting His righteousness and Perfect Love soak into me and transform me into His image and likeness as I glory in the Truth that I am unconditionally loved and accepted in the Beloved! Amen!
Do you have difficulty coming before Your Heavenly Father? How can the words of Scripture help to ease your fears? Which verses bring you peace and teach you that Jesus loves you and accepts you unconditionally?
~BAPearl