"In another moment down went Alice after it, never once considering how in the world she was to get out again."
~Lewis Carol, "Alice's Adventures in Wonderland"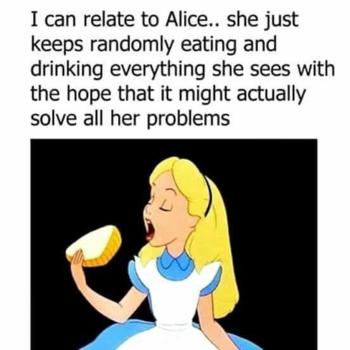 The new year: it is a minefield. There can be this weird concoction of hope and discouragement, effort and apathy.
A social media post, once again, caught my attention concerning this point. It was of the literary figure, Alice, from Carol's classic work, essentially binging.
And this was the image's caption…
"I can relate to Alice. She just keeps randomly eating and drinking everything she sees with the hope that it might actually solve all her problems."
Isn't that also the dilemma of new beginnings? Isn't that the notorious cliché of the new year and its resolutions?
No matter where the story takes Alice, she believes in the promise attached to "drink me" and "eat me" advertising. Alice views her "solution" as partaking in an external option to alter and improve her life. Sound anything like a weight loss resolution?
They say it is, indeed, the most popular resolution. This idea of a changed life is intoxicating. It beckons; it seduces. It reassures us that all that stands in our way is the exterior component. But come on, we know better, don't we?
No matter what the vice – or resolution FROM the vice – may be, life is not "solved."
And nothing captures this reality more than when we inevitably fail at the unrealistic resolution in the first place. Indeed, whether we binge, abstain, resolve or fail, the answer of a perfectly solved and complete life does not show up.
It shall even be as when a hungry man dreameth, and, behold, he eateth; but he awaketh, and his soul is empty: or as when a thirsty man dreameth, and, behold, he drinketh; but he awaketh, and, behold, he is faint, and his soul hath appetite… Isaiah 29:8
That's because this external stuff was never designed to deliver. We still have appetite. So that appetite begs the question…what for?
Search me… and know my heart;
test me and know my anxious thoughts.
See if there is any offensive way in me,
and lead me in the way everlasting. Psalm 139:23-24
I think we'd all do much better with life and health matters, not to mention, resolutions and the issue of change itself, if we shift our focus from perfectly external to imperfectly INTERNAL.
Let's be honest: the new year, for most of us, is far from happy, optimistic, anxiety-free or "radically changed." More realistically, the new year represents the ongoing, tedious, seemingly unchanged reality. And before we go straight to despair with that theory, let's stop and remember one silver lining. Nothing is as simple and/or as complete as it appears. More often than not, any form of change is not the dramatic makeover transformation we desire.
For many years, I berated myself for my perception of personal failure: spiritual, mental, physical, emotional, situational or aspirational. I was unrealistically expecting the ta-dah of presto change. And when that did not occur, for whatever reason, I internalized that lack of change as hopeless failure.
That was, however, until Scripture showed me otherwise.
But we all, with unveiled face, beholding as in a mirror the glory of the Lord, are being transformed into the same image from glory to glory, just as by the Spirit of the Lord. 2 Corinthians 3:18
And, even in this showing, my feelings were not instantly, perfectly soothed, bolstered or manifested, again, as a "happily ever after" life. No.
Concerning change and "resolution," one word is perhaps, healing to us if we apply and receive it as such; that word is "gradual."
Cue one of my favorite quotes about the humble snail…
"By perseverance the snail reached the ark."
~Charles H. Spurgeon
Snails are creatures of the gradual. You have to strain to see movement and change. It doesn't seem like ANYTHING is happening.
But what we see or what we think we see is not the entire picture. There is more going on.
Likewise, there is more to your story and my story. It transcends each new year, each resolution and change itself.
Wherever we are, whatever we may attempt to change or improve, we need to let ourselves off the hook a bit. Diet/fitness and addiction solutions abound. There is a program for anything and everything which vexes. And a lot of them promise instant, perfect solutions.
Yes, we are worth good health and prosperous lives. Yes, self-destruction and unhealthy choices harm us all.
But, as we stand on this precipice of a new year and a new start, unrealistic expectations can be just as harmful.
And, if there is anything the Most High does not want us to experience, it is harm, from ANY direction…
"For I know the thoughts that I think toward you, says the Lord, thoughts of peace and not of evil, to give you a future and a hope." Jeremiah 29:11
What kind of hope are you bringing into this new year?
What is it founded on? A diet? A program? An image? A broken habit? A goal achieved?
Whatever it may be, please remember the gradual, the imperfect, the snail, and, of course, The Most High.
Hope is found there. Happy new year!