For as he thinketh in his heart, so is he… Proverbs 23:7
We can really do a number on ourselves with our faulty thinking.
How many of us have said the following things to ourselves, about ourselves?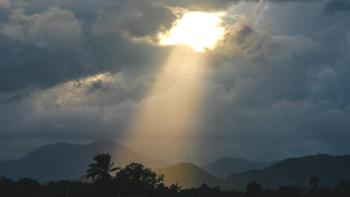 "I'm…
…worthless…
…ugly…
…fat…
…weak…
…stupid…
…a failure…
…never good enough…"
And then, if we're plagued with disordered eating and body image issues, it gets amplified even further.
Spiritually speaking, my struggles with eating and image disorders impacted my relationship with and view of God. It was one thing to have a poor self-concept; it was quite another to have that translate- and infiltrate into Who God was concerning me.
In short, He was a punishing enemy. And therefore, Proverbs 23:7 took on a dramatically more powerful and miserable meaning. And it wasn't the truth.
"…the truth will set you free." John 8:32
In the grips of my disorder, however it manifested itself, I fundamentally believed God hated me, was against me and was setting traps for me to go to Hell and be damned forever. Not exactly a loving God, Father or friend, is it?
Part of my recovery process, therefore, involves equipping myself with not just a better personal self-image, but also a better image of Who God is- and is not. It's challenging. And a significant element in this challenging process is asking the question, "Who told/taught you that?"
Questions are often viewed as taboo, unfortunately, in the Christian church. It seems to fly in the face of faith and trust in God. Yet, Scripture, repeatedly asks questions. Jesus asks questions. Some famous scriptures go as follows:
"Ask, and it shall be given you; seek, and ye shall find; knock, and it shall be opened unto you:" Matthew 7:7
"And all things, whatsoever ye shall ask in prayer, believing, ye shall receive." Matthew 21:22
"And whatsoever ye shall ask in my name, that will I do, that the Father may be glorified in the Son." John 14:13
"Ye have not chosen me, but I have chosen you, and ordained you, that ye should go and bring forth fruit, and that your fruit should remain: that whatsoever ye shall ask of the Father in my name, he may give it you." John 15:16
Yep, sounds like asking to me.
Yet so many of us seem to get squeamish about this asking business. And, in our uneasiness, we, therefore, go to assumption instead of learning, applying and absorbing the truth.
And here's where we get tricked, deceived, lied to, bullied and condemned if we allow ourselves to keep going in that direction.
Here's where "Who told/taught you that?" can really come in handy.
You see, by our very natures, we get things horribly wrong; we already are confused and blinded about many things in life, not the least of which is God Himself.
For now we see through a glass, darkly; but then face to face: now I know in part; but then shall I know even as also I am known.
1 Corinthians 13:12
I know- such great news.
And, because we have this dim, distorted view of things, it can be all too easy for encroaching, ungodly thoughts, arguments and beliefs to come creeping in. After all, we DO have an accuser…
And I heard a loud voice saying in heaven, "Now is come salvation, and strength, and the kingdom of our God, and the power of his Christ: for the accuser of our brethren is cast down, which accused them before our God day and night. Revelation 12:10
And he has a mission…
"The thief only comes to steal, kill, and destroy…" John 10:10
More great news.
And here, unfortunately, is where it can get quite tricky. Which side- which argument- do we believe and base our lives on?
And part of the problematic answer to that question speaks to the all too common fact we don't know God's side of things.
First and foremost, God is not a disorder God. He's the exact opposite…
Let all things be done decently and in order. 1 Corinthians 14:40
Next, He's not making it His goal to confuse and trap us…
For God is not the author of confusion, but of peace, as in all churches of the saints. 1 Corinthians 14:33
So, with that being said, the next conclusion to be reached would be how God doesn't condemn. He does everything He can to ensure our deliverance.
Exhibit A: Jesus.
For God so loved the world, that he gave his only begotten Son, that whosoever believeth in him should not perish, but have everlasting life. John 3:16
But God demonstrates His own love toward us, in that while we were still sinners, Christ died for us. Romans 5:8
There is therefore now no condemnation to them which are in Christ Jesus, who walk not after the flesh, but after the Spirit.
Romans 8:1
When we erect a belief of hopelessness, doom and personal damnation of our souls, it's as if we're declaring everything which Jesus was about, the entire point of Him was in vain and/or nonexistent.
I know one's faith journey is not an easy, pain-free process. It's quite the opposite, in fact.
But, here's the thing: Jesus never declared it would be easy, pain-free or feel wonderful all of the time.
And not only so, but we glory in tribulations also: knowing that tribulation worketh patience; And patience, experience; and experience, hope: Romans 5:3-4
But the God of all grace, who hath called us unto his eternal glory by Christ Jesus, after that ye have suffered a while, make you perfect, stablish, strengthen, settle you. 1 Peter 5:10
Now if we are children, then we are heirs–heirs of God and co-heirs with Christ, if indeed we share in his sufferings in order that we may also share in his glory. Romans 8:17
I know, I know, I know. It makes me want to scream too. Suffering, patience and painful experiences are NOT fun.
And, for whatever reason, unknown to us, our struggles, disorder included, have more meaning and purpose than meets the eye. And that's a challenging distinction to learn and cling to, as we go through the pain, uncertainty and failures of those issues we encounter.
But we need to make that distinction; we need to not confuse it with "God hates me."
Simply stated, God loves each of us. Period. Feelings of being fully convinced of that love are not always present; still, our feelings don't create or destroy the reality of His love. It exists no matter what, in spite of whatever is occurring or not occurring in our lives.
For I am persuaded that neither death nor life, nor angels nor principalities nor powers, nor things present nor things to come, nor height nor depth nor any other created thing, shall be able to separate us from the love of God which is in Christ Jesus our Lord. Romans 8:38-39
"The LORD hath appeared of old unto me, saying, 'Yea, I have loved thee with an everlasting love: therefore with lovingkindness have I drawn thee.'" Jeremiah 31:3
"Since you were precious in my sight… I have loved you…" Isaiah 43:4
That may sound like a cop out, but it's important to keep in mind that reality and feelings are not always one and the same.
In fact, a lot of the time, they are diametrically opposed to one another. And that's usually an opportune time for the accuser to insert himself into our thoughts, feelings and viewpoint of our painful situations.
But again, "Who told/taught you that?" Does it match up with or contradict God, at His Nature?
What shall we then say to these things? If God be for us, who can be against us? Romans 8:31
I will mention the lovingkindnesses of the LORD, and the praises of the LORD, according to all that the LORD hath bestowed on us, and the great goodness toward the house of Israel, which he hath bestowed on them according to his mercies, and according to the multitude of his lovingkindnesses. Isaiah 63:7
Is our answer more related to God Himself or our obscuring accuser/enemy?
"The thief only comes to steal, kill, and destroy…" John 10:10
Wouldn't it be an incredible coup if this enemy, this thief, could thoroughly convince us his destructive lie was truth- and our fate?
Again, check the job description of these two very different beings…
"Ye are of your father the devil, and the lusts of your father ye will do. He was a murderer from the beginning, and abode not in the truth, because there is no truth in him. When he speaketh a lie, he speaketh of his own: for he is a liar, and the father of it." John 8:44
God is not a man, that he should lie; neither the son of man, that he should repent: hath he said, and shall he not do it? or hath he spoken, and shall he not make it good. Numbers 23:19
Now, before you get all riled up, I'm not calling you Satan's child. But, nevertheless, John Eight's description of the devil is harsh. It's a caution to us, should we choose to pay attention. It dovetails into the saying, "You're either part of the solution or part of the problem."
And it challenges what we believe; we choose. We make that choice thousands of times a day. Big choices. Little choices. God choices.
Again, we can choose to believe or doubt God and His Love for us. This reality can be further helped by knowing about a major lie which often comes against us: God wants you and I to be sick, battle with our disease, disorder or addiction.
Scripture, however, tells us a different story.
Beloved, I wish above all things that thou mayest prosper and be in health, even as thy soul prospereth. 3 John 1:2
"For I know the thoughts that I think toward you, saith the LORD, thoughts of peace, and not of evil, to give you an expected end." Jeremiah 29:11
"For I will restore health unto thee, and I will heal thee of thy wounds," saith the LORD… Jeremiah 30:17
No, we don't see the big picture on why we endure certain things in our lives. It's not a cop out; more accurately, it speaks to the imperfect state of life.
And, yes, while that may be infuriating and provide little comfort, this imperfect reality should not be our excuse to blame God and wrongly pin Him as the evil villain. He is not. Don't confuse the enemy here.
God is not a disorder God.
Why art thou cast down, O my soul?
And why art thou disquieted within me?
Hope thou in God: for I shall yet praise him,
who is the health of my countenance,
and my God. Psalms 42:11
And, no matter what our disorder experiences in life may try to tell us, He is constantly restorative, loving and our involved Father when it comes to our circumstances:
We know that all things work together for the good of those who love God-those whom he has called according to his plan. Romans 8:28
Right now, right where you are, God is working it out. There's nothing disorderly or dysfunctional about Him.
Reap the rewards, then, of knowing and being fully convinced each step of your restoration life!