Gethsemane: Code For… "I don't want to do this."
We've uttered that statement frequently in our lives.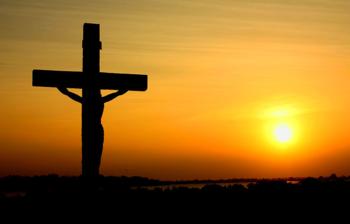 This time of year, there's a great deal of emphasis on Jesus. As we prepare for Resurrection Sunday, we read and remind ourselves just how this whole thing came to be: hope, salvation and reunion with God. It didn't just happen.
And a large part of it depends on Gethsemane.
Yes, Jesus is amazing and loving. But He still had a night of decision. Hours away from being crucified, there was a real moment; He didn't want to do it.
They went to a place called Gethsemane, and Jesus said to his disciples, "Sit here while I pray. " He took Peter, James and John along with him, and he began to be deeply distressed and troubled. "My soul is overwhelmed with sorrow to the point of death," he said to them. "Stay here and keep watch. "
Going a little farther, he fell to the ground and prayed that if possible the hour might pass from him. "Abba Father," he said, "everything is possible for you. Take this cup from me. Yet not what I will, but what you will." Mark 14:32-36
Still, He obeyed. He placed God's Will over His own. This was a life and death matter.
And this would have been a wonderful time to see He was rewarded for it. But things got worse…
Then he returned to his disciples and found them sleeping. "Simon, " he said to Peter, "are you asleep? Couldn't you keep watch for one hour? Watch and pray so that you will not fall into temptation. The spirit is willing, but the flesh is weak. "
Once more he went away and prayed the same thing. When he came back, he again found them sleeping, because their eyes were heavy. They did not know what to say to him.
Returning the third time, he said to them, "Are you still sleeping and resting? Enough! The hour has come. Look, the Son of Man is delivered into the hands of sinners. Rise! Let us go! Here comes my betrayer!" Mark 14:37- 42
And yes, it gets still worse from there. We know what happens. And that is extremely important.
But we often bypass the Gethsemane moment. And we need to view that instance with equal importance. After all, Jesus could have said "no."
What is it in your life and in my life which makes us respond with, "I don't want to do this?"
There is something.
As we reflect on Resurrection Sunday and what Jesus did, let's also examine our lives, what we do – and do not want – to do.
Gethsemane – what is that to each one of us?