The BBC recently reported: France abuzz over alcoholic 'cure'. French cardiologist Oliver Ameisen says that baclofen, a muscle relaxer, can cure alcohol and cocaine addictions.
Take a pill to cure your addiction. It sounds too good to be true.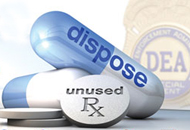 How much sense does it make?
Is addiction simply a craving for a substance or thing? If that is the case, the pill will cure it. Unfortunately, addiction is not just a craving. It is a complex malady of the mind, body and spirit. To treat the physical craving only, is to ignore the mental, emotional and spiritual aspects of addiction and dysfunctional living.
Taking a pill is much like putting a band aid with numbing ointment on a wound. I feel better but the wound is not healed. Secondly, what caused the wound in the first place is not eliminated. The wound can occurr again and again inflicting more and more damage.
We live in a society that wants the quick fix, the easy way out of our misery. But true and lasting healing takes time. The causes of the pain have to be removed so no more injury can take place. The wounds and scars on our souls need to be healed. The sins have to be washed away. We have to be willing to change, do things differently and to actually walk a different path. We need to be cleansed before we can be regenerated. Without addressing these things, we are fooling ourselves.
We cannot fix ourselves. Pills cannot remove what ails us. Only Jesus Christ has the power and authority to bring true healing.
He said:
"I am the door: by Me if any man enter in, he shall be saved, and shall go in and out, and find pasture. The thief cometh not, but for to steal, and to kill, and to destroy: I am come that they might have life, and that they might have it more abundantly. I am the good shepherd: the good shepherd giveth His life for the sheep." John 10:9-11
"I am the resurrection, and the life: he that believeth in Me, though he were dead, yet shall he live: And whosoever liveth and believeth in Me shall never die." John 11:25