"It cost God plenty to get you and me out of that dead-end, empty-headed life we grew up in."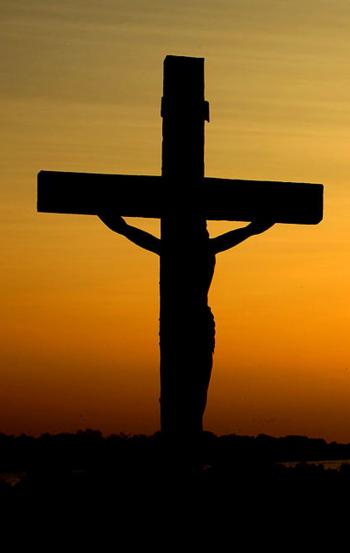 Is the price Jesus paid for you and me enough? Do you feel that you need to add your (good intentioned) efforts-kind of like the "Cross of Calvary", plus you? We may need to meditate on the following scriptures to sort out the before questions.
I posted this recently, but have a strong sense from God that someone desperately needs this truth, right at this moment! Please stand with me in intercession for those who truly can't live another day without the revelation of Calvary.
How blessed is God! And what a blessing he is! He's the Father of our Master, Jesus Christ, and takes us to the high places of blessing in him. Long before he laid down earth's foundations, he had us in mind, had settled on us as the focus of his love, to be made whole and holy by his love. Long, long ago he decided to adopt us into his family through Jesus Christ. (What pleasure he took in planning this!) He wanted us to enter into the celebration of his lavish gift-giving by the hand of his beloved Son.
Punishments chalked up by all our misdeeds. And just barely free either; abundantly free! He thought of everything, provided for everything we could possibly need, letting us in on the plans he took such delight in making. He set it all out before us in Christ, a long-range plan in which everything would be brought together and summed up in him, everything in deepest heaven, and everything on planet earth.
It's in Christ that we find out who we are and what we are living for. Long before we first heard of Christ and got our hopes up, he had his eye on us, had designs on us for glorious living, part of the overall purpose he is working out in everything and everyone.
It's in Christ that you, once you heard the truth and believed it (this Message of your salvation), found yourselves home free — signed, sealed, and delivered by the Holy Spirit. This signet from God is the first installment on what's coming, a reminder that we'll get everything God has planned for us, a praising and glorious life. (Ephesians 1:3-14, Message)
We are not an after- thought or plan "B." I can't give you a better word picture of the efficacy of Calvary's Cross than Max Lucado:
The Main Event
"History has only one Main Event, Man-kinds time line is dotted with important moments…The first spark from the first flint, the rolling of the first wheel, the treating of the first wound, who dares minimize these events? But, who dares compare them with THE CROSS? History has only ONE MAIN EVENT.
Scripture has only ONE MAIN EVENT. Others matter, but only one is essential. The story of Jericho might stir you, but falling walls can't redeem you. Moses will give you direction for the wilderness, but, no solution for your sin-David's defeat of Goliath might reduce your timidity, but only THE CROSS prepares you for eternity! Scripture has only ONE MAIN EVENT.
Even in the life of Jesus, there is only ONE MAIN EVENT! For if there is no CROSS OF CHRIST-then there is no truth to Christ. And when it comes to your life, the same is true, to remove THE CROSS, is to remove the hinge pin from the door of Hope-the door of your Hope! If there is no CROSS, then there is no sacrifice for sin. And if there is no sacrifice for sin, how will you face a sinless God? Will you cleanse yourself from your own sin?
If there is no CROSS OF CHRIST, then there is no resurrection, and if there is no resurrection how will you live again? Will you push back your own grave? Forgiveness of sin, deliverance from death-these are the claims of the CROSS. Let there be no mistake-the CROSS is not an event in history…It is THE EVENT OF HISTORY!"
THE CROSS makes the journey possible, hopeful, purposeful, powerful and doable.