Blows that wound cleanse away evil;
beatings make clean the innermost parts. Proverbs 20:30 NRSV
We see sin in ourselves most often when we are in pain. In fact, it often takes the hard circumstances in life for us to even stop and listen to God. And He uses those hard circumstances to keep us from running off the precipice of the cliff of sin.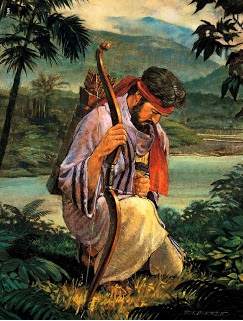 It happened, late one afternoon, when David rose from his couch and was walking about on the roof of the king's house, that he saw from the roof a woman bathing; the woman was very beautiful. 3 David sent someone to inquire about the woman. It was reported, "This is Bathsheba daughter of Eliam, the wife of Uriah the Hittite." 2 Samuel 11:2-3 NRSV
Most of us are familiar with the adulterous affair of David and Bathsheba, the wife of one of his commanders. The Israelites built homes with flat roofs and used their roofs for rest and relaxation when it was warm. Whether or not Bathsheba chose to bath on the roof hoping to catch the eye of the king, at that moment David was presented with a choice. He didn't have to ask who she was; he could have averted his eyes. He didn't.
The result of their extended affair was that Bathsheba got pregnant. In a fit of panic, David ordered her husband, Uriah, to the front where he was logically killed. David then took Bathsheba into his home (and his bed) and his wife, thinking that his sin had been unseen. I'm sure that he believed that he was doing the "right" thing by marrying Bathsheba, that this marriage was a sign of penance toward God. But God wasn't fooled. Manipulation is never part of repentance. Yes, we are to make restitution, but first comes confession. And David hadn't confessed.

We aren't told what happened within the palace walls as the hasty marriage took place. But I think we can image. David already had other wives and children from those marriages. I doubt that his affair was an actual secret; there are few secrets in homes filled with servants. Who knows but perhaps the righteous Abigail came to her husband in distress and concern, speaking to him gently about the sin of adultery. We do know that David's sin was known to God and that it took the Nathan's horrible prophecy to bring David to his knees, a prophecy that included the death of David and Bathsheba's unborn son.
The Lord struck the child that Uriah's wife bore to David, and it became very ill. David therefore pleaded with God for the child; David fasted, and went in and lay all night on the ground. The elders of his house stood beside him, urging him to rise from the ground; but he would not, nor did he eat food with them. On the seventh day the child died. 2 Samuel 12:15b-18a NRSV
Suddenly the palace must have been in turmoil. A new wife. A new son. And now a dire sickness. David was frantic. Scriptures tell us that he "pleaded with God." I'm sure his arguments included that this innocent child should not be held accountable for his own sin. But true to the prophecy, the child died. It took death to bring David to his knees, to the point where he was willing to confess and repent.
Psalm 51 is David's confession. It is an amazing psalm because we can see the depth of David's repentance. This man—once called a man after God's own heart by God Himself—had now become an adulterer, a murderer, and a liar. He understood what it meant to trust your own heart and find yourself embroiled in the most painful of circumstances. He understood what it meant to stand before the Throne of the Most High and find your prayers falling on deaf ears. He finally understood that we cannot bargain with God but, instead, must lay our sins before Him for His forgiveness and trust our future into His hands.
David had likely been disappointed in all his previous marriages and may have truly found his "soulmate" (if there is such a thing) in Bathsheba, but he satisfied this lust of his flesh at an enormous price. The Lord promised that the sword would never depart from David's house. And, in fact, his son Solomon was the last king to rule over a united nation. The 12-tribes would fight continually until the nation was, in fact, totally and utterly destroyed. It took that prophecy, it took the death of his son, it took even the threat that he might die for David to finally repent.
What will it take for you and me? Will we look at hurtful circumstances in anger, fighting with God? Or will we look to see if there is sin that His righteousness wants to expose? Only in confession can we find forgiveness. Not all painful circumstances are there because of our sin, but our first thought should be to look to our hearts to see if we need to turn (back) to the Lord.