1 John 2:29-3:3
If you know that He is righteous, you may be sure that everyone who does right has been born of Him. See what love the Father has given us, that we should be called children of God; and that is what we are. The reason the world does not know us is that it did not know Him. Beloved, we are God's children now; what we will be has not yet been revealed. What we do know is this: when He is revealed, we will be like Him, for we will see Him as He is. And all who have this hope in Him purify themselves, just as He is pure.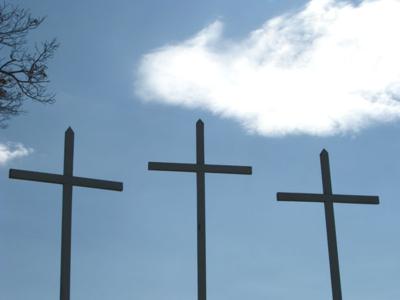 It is well known that the epistle written by James is about what Christians should do. James writes: What good is it, my brothers and sisters, if you say you have faith but do not have works? (James 2:14 NRSV) But I rarely (if ever) hear that John also writes about what we should do, but rather more about who God is. But here, in the beginning of 1 John 3, John gives us a very strong admonition that we are to live pure lives: All who have this hope in Him purify themselves, just as He is pure.
Peter also writes about holy living when he talks about our hope in 1 Peter 1:13-16 NRSV
Therefore prepare your minds for action; discipline yourselves; set all your hope on the grace that Jesus Christ will bring you when he is revealed. Like obedient children, do not be conformed to the desires that you formerly had in ignorance. Instead, as He who called you is holy, be holy yourselves in all your conduct; for it is written, "You shall be holy, for I am holy."
Thus, as Christians, there is a mandate between our behavior and who we are in Christ, not that we earn our salvation in any manner (for we know that we can't), but rather that we must respond to our salvation in a specific manner. I go back to the example of a married couple. They get engaged, plan the wedding, attend the showers and parties, and show up at the church on the assigned day, she in her gown, he in his tux. They meet at the altar in front of many witnesses, say their vows, and then walk out of the church never to be together again. He goes back to his many girlfriends; she goes back to her many pursuits. They fail to consummate the relationship or in any other way to act "married." Are they then actually married? In word only, but certainly not in deed.
It is the same with believers. We may walk down the aisle and say the "sinner's prayer." We may attend church and Bible studies, go to conferences and read books, sing songs and know the lingo. But if our behavior isn't changed, if we continue to embrace those sinful behaviors that we know dishonor the Lord, are we truly saved? Are we truly a child of God?
Matthew Henry wrote:
"Those then who hope to live with him must study the utmost purity from the world, and flesh, and sin; they must grow in grace and holiness. Not only does their Lord command them to do so, but their new nature inclines them so to do; yea, their hope of heaven will dictate and constrain them so to do. They know that their high priest is holy, harmless, and undefiled. They know that their Go and Father is the high and holy one, that all the society is pure and holy, that their inheritance is an inheritance of saints in light. It is a contradiction to such hope to indulge sin and impurity. And therefore, as we are sanctified by faith, we must be sanctified by hope. That we may be saved by hope we must be purified by hope. It is the hope of hypocrites, and not of the sons of God, that makes an allowance for the gratification of impure desires and lusts." (emphasis mine).
Gratification is an important word in this process. Gratify has interesting connotations. It can mean to reward, to be the source or, to give satisfaction to, to indulge, and to satisfy. Paul talks about gratifying in Romans 13:12-14 NRSV:
Let us then lay aside the works of darkness and put on the armor of light; let us live honorably as in the day, not in reveling and drunkenness, not in debauchery and licentiousness, not in quarreling and jealousy. Instead, put on the Lord Jesus Christ, and make no provision for the flesh, to gratify its desires.
He contrasts living "honorably" with reveling, drunkenness, debauchery, licentiousness, quarreling, and jealousy. He also contrasts putting on the Lord Jesus with making provision for the flesh. He tells us to make no provision. Matthew Henry told us not to make any allowance for the gratification of impure desires and lusts. John wrote: If you know that He is righteous, you may be sure that everyone who does right has been born of Him… And all who have this hope in Him purify themselves, just as He is pure (2:29, 3:3, NRSV). We know if we are His because we do right. We do right (purify ourselves) because of the hope we have in Him. There is a strong sense that, while we are not saved because of our behavior, our behavior must and will change if we are truly saved… and if our behavior doesn't change, then we have need to ask ourselves if we are truly saved.
We also need to be careful that we are using this judgment against ourselves and not in angry or hatred against the sins or behavior of others. Jude 22-23 NLT writes:
Show mercy to those whose faith is wavering. Rescue others by snatching them from the flames of judgment. There are still others to whom you need to show mercy, but be careful that you aren't contaminated by their sins.
We are to be strong against our own sin, but to be merciful against the sins of others. If another Christian is overcome by some sin, you who are godly should gently and humbly help that person back onto the right path. And be careful not to fall into the same temptation yourself. Galatians 6:1 NLT
It is so easy to look at the sins of others; not so easy to look at my own sin. And yet, the Holy Spirit wants very much to reveal to me those areas where I am not pure, to purge those sins from my life, and to make me holy in His sight. When I sin, I have an Advocate in the Lord Jesus. But my goal should be not to sin, to be so in tune with the Lord that I'm aware before I sin that my choice may lead me astray. My prayer is that I will not sin today … in His power.