The eternal God is your refuge, and underneath are the everlasting arms!" Deuteronomy 33:27
There are some choice thoughts in the figure of "God's embracing arm."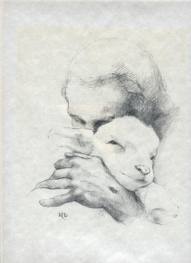 One thought is protection. A father puts his arm around his child when it is in danger. Just so, God protects His children. Temptations beset us on every hand. Many people think of 'dying' with dread, fearing to meet it. But life has far more perils than death! It is easy to die–when one has truly lived for Christ; it is only entering into eternal joy and blessedness. But it is hard to live. At every point there are perils. We need protection. Here we have it, "The eternal God is your refuge, and underneath are the everlasting arms!"
Another suggestion is affection. The father's arm around the child, means love. The child is held in the bosom, near the heart. John lay on Christ's bosom. The shepherd gathers the lambs with his arms and carries them in his bosom. This picture of God embracing His children with His arm, tells of His love for them. It tells also of intimacy, and closeness of relation. The bosom is the children's place.
There is yet a tenderer phase of the thought here. It is especially in the time of danger or suffering, that the mother carries the child in her arms. She takes it up when it has fallen and hurt itself, and comforts it by enfolding it in her arms. When it is sick, she presses it to her bosom.
We have here, a picture of the special sympathy and tenderness of our heavenly Father for His children–when they are in pain or in trouble. This is one of the blessings of suffering–it gets us to the inner place of divine affection, nearest to the Father's heart! God draws us nearest–when we are in trouble or in pain!
The arm is also the symbol of strength. A mother's arm may be physically frail–but love makes it strong. The arm of God is strong–it is omnipotent. It supports worlds! When that divine arm encircles one of His feeble children–all the power of the universe cannot tear it away!
Every true human friend is more or less a strength to us. Yet the finest, securest human strength–is only a little fragment of the divine strength. "Trust in the Lord always–for in the Lord Jehovah is everlasting strength!" Isaiah 26:4.This is omnipotence! Here is an arm that never can be broken, and out of its clasp we never can be torn!
Another thought concerning the everlasting arms, is endurance. There might be protection, affection, and strength–and yet the blessings might not last. We have all these in human love–but human arms grow weary–even in love's embrace. But the arms of God are everlasting. They shall never grow weary. It is everlastingness, which is the highest blessedness of divine affection and care!
Here is something that lasts, which knows no separation, which never unclasps. The arms of God are everlasting. Neither death nor life can separate. The mountains shall depart, crumble, vanish–but God's kindness shall never depart from His beloved child!
There is a very sacred thought in the word "underneath". A father tried to save his child in the waves, clasping his arms around the beloved form. But his arms were too weak, and the child slipped from them, sank away in the dark waters, and perished. But the arms of God are underneath His children–and none can sink out of His embrace! His arms are always 'underneath'.
The waves of sorrow are very deep–but still and forever underneath the deepest floods–are the everlasting arms. We cannot sink below them. If we lie down in sickness, the everlasting arms are underneath us. If human friendships are stripped off, and we stand alone in our bereavement, still we are not alone. Underneath are the everlasting arms. God remains–and God suffices.
Then, when death comes, and every earthly thing is gone from beneath us, and every hand unclasps from ours, and every face of love fades from our eyes, and we sink away into what seems darkness–it will be only into the everlasting arms! To every true Christian, death is only departing from earth's weariness and pain–to forever nest in the bosom of Christ!
If we realized that the eternal God is our refuge, and that the everlasting arms are truly underneath us–our joy would not fluctuate as it does, nor our zeal be so fitful. We need a deeper repose in Christ, a more trustful settling down upon Him and upon His atoning work. Then nothing could disturb our confidence, nothing could chill our ardor, nothing could hinder our consecration. Then in sorrow we would rejoice, in temptation we would be victorious, and in all of life we would be Christ-like and strong!
(J. R. Miller, "Life's Byways and Waysides")
~ * ~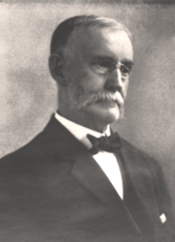 James Russell Miller (March 20, 1840 – July 2, 1912)
was a popular and prolific Christian author.