When we feel the stress of the storm we learn the STRENGTH of the anchor!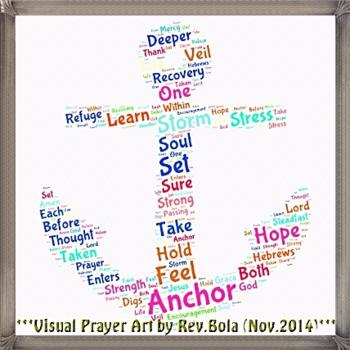 …we who have taken refuge would have strong encouragement to take hold of the hope set before us. This hope we have as an anchor of the soul, a hope both sure and steadfast and one which enters within the veil…. Hebrews 6:18-19 NASB
1. Mark's gospel describes the disciples' vivid lesson about who Jesus is and what He can do. While they were frantically trying to save a sinking boat, Jesus was asleep. Didn't He care that they were all about to die? (v.38). After Jesus calmed the storm (v.39), He asked the penetrating question, "Why are you so fearful? How is it that you have no faith?" (v.40). Then they were even more afraid, exclaiming to each other, "Who can this be, that even the wind and the sea obey Him!" (v.41).
2. Thank you Lord Jesus for giving me a 'safe dwelling place' during life's storms. Without your comfort, and calming effect on my heart, I would be lost and scared. Thank you Lord for guiding me through a life that I don't need to be afraid of. With You by my side, I can withstand any and all of life's storms.

3. Be still, my heart; for faithful is thy Lord,
And pure and true and tried His holy Word;
Though stormy flood which rageth as the sea,
His promises thy stepping-stones shall be.
4. Simply put, our anchor is Jesus Christ. He is our only salvation from sin — the anchor of our souls (see Hebrews 6:19) that holds firm, especially when the storms of life threaten and when the enemy's temptations blow hard against us.
5. Does this mean that we can escape the troubles of this world? No — but it does mean that we set the compass of our hearts on Christ. Then, when the aggressive winds and tumbling waves of temptation come, we will not be overwhelmed by them.
6. Living a godly life in an ungodly world is realizing that we do not belong to ourselves. As believers, we belong to Jesus Christ. He is the Shepherd of our souls, our loving Savior, and eternal Lord — and from a spiritual standpoint, we do not belong to this world. Our heavenly Father has provided all that we need to live free of Satan's temptations, tactics, lies, and snares.
7. Realize that God loves us with an unconditional love. When we draw nearer and nearer to Christ, our desire to follow the way of temptation will fade. No one will ever care as much for us as the Savior does. Christ died so that we might have eternal life. His grace is a gift that cannot be purchased through good works or outstanding behavior. He loved us even before we were born, and He loves us now. We cannot earn His love, and we cannot lose it. When we yield to sin and sense that there is a distance between the Lord an us, it is not because His love for us has faded.
8. There are consequences to sin that are unavoidable, and one of these is that we sense God's rebuke because we have grieved His Spirit. But when we pray and ask Him to forgive us, He does — and He restores our fellowship with Him because His love has the ability to cover a multitude of sins (see James 5:20).
9. We are involved in a spiritual battle. Unseen forces wage war against us, but the ultimate victory is won in Christ. Only faith in Jesus Christ wins the battle. It is faith that is not compromised one day and forgotten the next. Instead, it is faith that is built and maintained through love and devotion to God's Son.
10. If you are struggling against God's will and plan for your life, STOP. Ask Him to help you understand the depth of His love for you. When you do, you will find that God is giving you the ability you need to live a godly life in an ungodly world!.
11. In Christ our hope of eternal life is centered….
Our hope is an anchor to the soul both sure and steadfast when it entereth into that within the vail, for the tempest-tossed soul becomes a partaker of the divine nature. He is anchored in Christ. Amid the raging elements of temptation he will not be driven upon the rocks or drawn into the whirlpool. His ship will outride the storm.
AN ANCHOR IN EVERY STORM
TO HIS WILL I MUST CONFORM
Dear Lord,
My hope is in You. You are the anchor of my life. With each passing storm my anchor digs deeper and deeper into the mercy and grace of God. Thank you Jesus! Amen.