One day a man walked into his place of worship and to his surprise the devil was at the altar weeping bitterly. When the man asked him, "Hey, what's wrong with you?" His reply was, "Everyone blames me for everything!"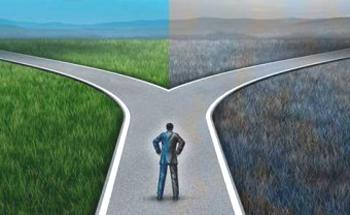 This fictional story serves to remind us how easy it is to point fingers. We, like water, seek out the easiest course to follow. You see, it's so much more convenient to blame everyone rather than to look deep into ourselves. Not until I began to honestly take inventory of my own personal life, was I able to admit to myself that I was in dire need of a total spiritual and emotional make-over.
It's a humbling experience for anyone to look into the mirror and say, "I have met the enemy and the enemy is me!"
But, like a master sailor uses the contrary wind to get him to safe harbor, we too can use our imperfections as a driving force to relearn and refocus on our true self and mission on earth. Be comforted in knowing that because of Gods amazing grace, He is able to draw a straight line using a crooked stick.
If we will fearlessly open up the chapters of our past, I think we will be surprised to see that many of our hell-on-earth experiences have been caused by the inability to make right decisions. Never forget, we are the very ones who chose alcohol and/or drugs as a solution to life's problems. (Some may say, "Alcohol, drugs? That's not my problem!" That may be true, but take a good look into the cup from which you drink, is it filled with fear, pride, unforgiveness, greed or guilt?) If your answer is yes, then we welcome you to join us as we seek for the solution.
The 3rd step in the big book of A.A. reads "We made a decision to turn our will and our lives over to the care of God as we understood Him."
The word decision means: The act of making up one's mind. When a person lacks this ability they are likened to a double minded (doubting, hesitating) man who is unstable in all his ways (James 1:8 paraphrased). One never builds a mansion on a unstable foundation, much less will a marriage built on sand (unstable people) survive the storms of life.
But wait! There is a better way. For He who has all POWER says to us,
"For I know the plans that I have for you, declares the Lord, plans for welfare and not for calamity, to give you a future and a hope." Jeremiah 29:11
But for us to enjoy the fruit of this better way we must pass through the Valley called DECISION.
Many of us have missed out on excellent opportunities in life, due to the inability to make up our own mind. You see, when we doubted and hesitated, another came and snatched up all that was dear to us. In the twinkling of an eye, family, friends, careers and even our own self respect was gone.

Isn't it sad when one is only moved by rock-bottom, heart-breaking pain! Remember, it was only after the Prodigal son lost everything on loose living and ended up in the stinky, knee-high mess of a pig-pen, that he came to his senses (the ability to think or reason soundly). It was there that his eyes were opened for him to clearly see the reality of his situation. I remember my own mother saying to me as a youth, "Tell me who you keep company with and I'll tell you who you are." In a way, this young man ended up with his own kind. You see, he had evolved into an always consuming, never giving, selfish pig. There was no hope, compassion or love to be found in this pig-eat-pig environment, only the mindset of 'give me or I'll take it from you!' Have you ever been there?
Yes, it was only then that he realized he would need someone much wiser and definitely more powerful than himself if he was ever to get out of this nightmare. Then the solution began to flow out of his trembling lips. He uttered
"How many of my father's hired men have more than enough bread, but I am dying here with hunger!" Luke 15:17
Then came the best Decision of his life. He said ( v18a),
"I will get up and go to my father .."
Then the miracle of transformation begins to unfold as he rehearses his meeting with his father
(v18b) "and will say to him, Father, 'I have sinned against heaven, and in your sight, (v19) I am no longer worthy to be your son; make me as one of your hired men. . '"(v20).
Please understand, it will take more than mere talk for the miracle to take place, it will take action! SO HE GOT UP and came to his father. But while he was still a long way off, his father saw him (covered from head to toe with muck and mire * writer's insert) and had compassion ( mercy * writer's insert) for him, and RAN and embraced him and kissed him. Notice that the Father didn't stand there with his arms folded in disgust, waiting for the son to crawl back in humiliation. No, that day God demonstrated just how powerful He really is.
You see, it takes much power to forgive, but it takes the highest degree of power to GIVE to someone who doesn't deserve it. It's interesting that the Father didn't even allow the son to finish his well rehearsed speech. He didn t need to. He had already heard it and had witnessed the transformation of heart which took place in the pig-pen..(v22). But the Father said to his servants,
"Quickly bring out the best robe and put it on him, and put a ring on his hand and sandals on his feet, (vv 23) and bring out the fattened calf, kill it, and let us eat and celebrate, (v24) for this son of mine was dead and has come to life again; he was lost and has been found."
And they began to celebrate.
Forever laid to rest was the old GIVE ME mentality. In it's stead stood a young man who had gained the ability to make the right decision. Like a damaged earthen vessel he returned to the skillful hands of the potter, with the request of, "MAKE ME as one of your hired men."
I'm sure the Father's heart leaped with joy at the son's petition. For with it, he had just unknowingly gained access into Heaven's storehouse. You see, to God the words 'MAKE ME' went far, far beyond providing a place to live, the new clothing or jewelry. Years ago, I personally witnessed many wealthy people drive into the poorer neighborhoods, scoring drugs to relieve their inner pain. Their wealth and goods could not provide the healing they so desperately needed. Never forget,
God is able to do far more abundantly beyond all that we ask or think, according to the power that works within us. Ephesians 3:20.
For He Himself says,
"For as the heavens are higher than the earth, so are My ways higher than your ways. And My thoughts than your thoughts." Isaian 55:9

If you truly understood the richness of the word MAKE, you would declare a celebration too! One of the root meanings is, 'to be reconciled, or to take it a little higher, to bring back to a former state of harmony!' While the son would have been satisfied with becoming a hired man, the Father in His infinite grace and mercy would have no part of that!

He proclaimed for all to hear "THIS SON OF MINE." The slate was washed clean and the wrongs were tossed into the Lake of Forgetfulness.

I know some may say, "Well God could never restore my life due to the destruction that I've caused. I've got nothing coming from Him!" Well, now that we've heard your opinion (we know where our own opinions have gotten us), let's be encouraged by His promise.

"Fear not, little flock; for it is your Father's good pleasure to give you the kingdom."Luke 12:32

God has always wanted to bless us, and has waited patiently for His children to make up their mind. Are you ready for that? Come on, you can do it. Say, "MAKE ME"!

Your friend in the journey
Joe A. Rivera
Temecula, CA