Too many of us have lived our lives suffering in a silent, shameful prison of hopeless despair. When we tried to hope — our hopes were always deferred. We were heart sick from all our seeming endless deferred hopes (Proverbs). Hope for us was more of a mirage; one which was continually being pushed into an elusive, uncertain and clouded future.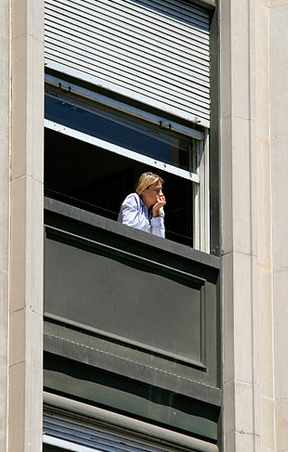 Thus, our lives became defined by disappointment, disillusionment and shame. And like Rowan and Martin, on the 1970's show Laugh In, we regularly awarded ourselves with "the twisted finger of fate," instead of embracing our true divine destiny in Christ.
These three cousins of hopelessness (disappointment, disillusionment and shame) 'mar' the true image of God. I don't recall whose quote this belongs to; but, it goes something like this: "God created man in his image and likeness. Unfortunately, man has returned the favor. We have shaped God into the 'twisted' and 'wicked' view we have of ourselves." Disappointment, disillusionment and shame diminished us!
Not so in Christ! With him in our hearts, "hope springs eternal."
Such hope never disappoints, disillusions or shames us; for God's love has been poured out in our hearts through the Holy Spirit Who has been given to us. Romans 5:5, Amplified (my editorial change – deludes changed to disillusions)
Hope enables us to wait patiently for our redemption.
That is why (hopeful) waiting does not diminish us;

any more than waiting diminishes a pregnant mother. We are enlarged in the waiting. We, of course don't see what is enlarging us. But the longer we wait, the larger (our hope becomes), and the more joyful our expectancy. Romans 8: 24-25, The Message (parentheses mine).
While waiting on God, hope explodes in our hearts with a message that speaks of a certain future and hope. At that place, we begin to see clearly Papa's expected end for our lives.
"I know what I am doing. I have it all planned out — plans to take care of you, not abandon you, plans to give you the future you hoped for. Jeremiah 29:11, (Msg.)
Our divine destiny begins to reflect His Kingdom purposes. The 'fickle finger of fate' is daily traded for a sure, hopeful destiny and future!
The Holy Spirit counters the dissuading lies of hopelessness. He continually communicates the hope-filled message of Papa's love in our hearts. Holy Spirit also reveals the bond of tenderness between the Father and The Son. Thus, he imprints our hearts with the indelible stamp of the compassion of God. Our hope-filled hearts overflow with the wellspring of tender compassion. And our lives exude a timeless message of eternal hope!
The life of Jesus suggests the hope of becoming like he and His Abba (Father/Papa). Donald Gray expresses it this way:
Jesus reveals in an exceptionally human life what it is to have the hope of living a divine, compassionate life." Hope enlarges our heart and makes more room for the loving compassion of God in and through us!
In the grip of Papa's pregnant message of Grace and Hope!