Job 13:15 KJV
Though he slay me, yet will I trust in him: but I will maintain mine own ways before him.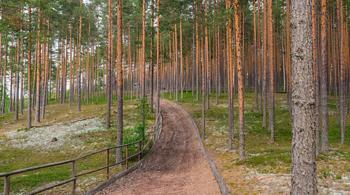 A young man was walking in forest early one morning, enjoying the transition from night to day. As he walked, he began to meditate on the natural beauty of the woods and how God is all powerful.
He was very happy because that night before he had been baptized. While he was on his walk, the daylight began to shine bright a cast a beautiful ray of light through the trees. Along the path there was a stream he had to cross, but was not sure if he could make it. He prayed and he heard a voice that said ' let go let God'. He said to himself that must be the voice of God; I am going to listen. He listened to the voice, so let go. and made it across.
Further along the way there was a small hill. When he tried to walk down the hill, his foot slipped. Fortunately, a small branch was sticking out that he managed to grab. He looked down and could see that he was about 5 feet from the ground. Overwhelmed with fear he was not sure he could land on the ground without hurting himself.
Once again, he said to himself, I am going to ask God what to do because I know God will give me the right answer. Again, he prayed, and heard the voice say 'let go let God'; he did and landed safely on the ground. Now, he was feeling confident and trusting in the word of God and believed unconditionally that God knew what was best for him.
He walked further and slipped down another hill. This time when he looked down, he could see that he was about 200 feet from the ground. He had no doubt that God would tell him what to do and God would answer his prayer. Again, he prayed and asked God what he should do. Again, the voice said 'let go let God'. He was not sure why God would say that to him so he asked again and the voice of God said 'let go let God'.
When he heard God tell him to let go once more, he thought to himself no, that is not the voice of God because I am a good person, so he asked for divine intervention again. This time he shouted God I was baptized last night and now I am saved. He waited a few minutes and again the voice said 'let go let God'. When he heard that for the third time he shouted out 'is there anybody else up there'…
Psalm 71:11 In thee, o lord, do I put my trust: let me never be put to confusion.