I'm a huge fan of classic cartoons. The Roadrunner, in particular, always makes me smile.
Recently, I stumbled across an image, featuring Wile. E. Coyote's "calling card," which read "Genius." And it immediately reminded me of a famous Albert Einstein quote: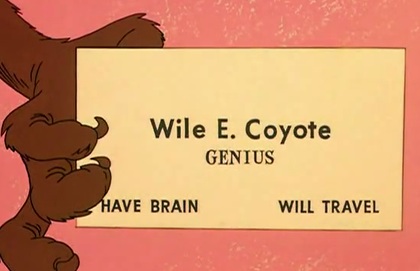 Everyone is a genius. But if you judge a fish on its ability to climb a tree, it will live its whole life believing that it is stupid.
All of us, to one degree or another, have been affected by incorrectly viewing ourselves and our worth. And there are many of us who have experienced this at its most extreme. Traumatic abuse and mistreatment can convey the message we are worthless and stupid because of (fill in the blank with any personal reason given by the abusive person)…
Death and life are in the power of the tongue: and they that love it shall eat the fruit thereof." Proverbs 18:21
This scripture is there to instruct us on the power of words in our lives; they can either heal or wound. And it's within the wounding where we often internalize the wrong message on our calling cards. We do not see our incredible genius or value; we only see the worst.
But this is not who we are. First of all, we are made in God's Image…
And God said, Let us make man in our image, after our likeness: and let them have dominion over the fish of the sea, and over the fowl of the air, and over the cattle, and over all the earth, and over every creeping thing that creepeth upon the earth. So God created man in his own image, in the image of God created he him; male and female created he them. Genesis 1:26-27
Furthermore, we also need to keep in mind we are created for purpose.
For by him were all things created, that are in heaven, and that are in earth, visible and invisible, whether they be thrones, or dominions, or principalities, or powers: all things were created by him, and for him." Colossians 1:16
Through him all things were made; without him nothing was made that has been made. John 1:3
For from him and through him and for him are all things. To him be the glory forever! Amen.Romans 11:36
And, because of those two things, we can, therefore, experience the ridicule, the oppression and the rejection of this thing called life.
"…Your own people who hate you, and exclude you because of my name, have said, 'Let the LORD be glorified, that we may see your joy!' Yet they will be put to shame.'" Isaiah 66:5
After all, look who experienced it first?
"If the world hates you, ye know that it hated me before it hated you." John 15:18
"You will be hated by everyone because of me…" Matthew 10:22
He was in the world, and the world was made by him, and the world knew him not. He came unto his own, and his own received him not. John 1:10-11

Again, it has to do with our self-image. What is on our calling cards? Is it "genius" or "worthless?"

Let's all be card-carrying members of that first option!

"For I know the thoughts that I think toward you, says the Lord, thoughts of peace and not of evil, to give you a future and a hope." Jeremiah 29:11
I will praise You, for I am fearfully and wonderfully made… Psalm 139:14