The refrigerator — the bane of so many of our life issues, huh?
When I was a little girl, I almost had the entire Sindy doll set up. I had her accessories, clothes, horse and of course, doll furniture. This refrigerator was part of the kitchen set. And, as part of my play, I had different food items kept in there: chicken, orange juice and even a teeny tiny ice cube tray with itty bitty ice cubes. It made playing with my Sindy, Barbie and Ken dolls all the more realistic.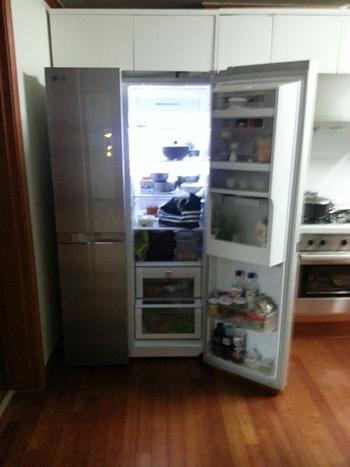 Still, I knew this yellow fridge was a toy.
Unfortunately, as I grew up, I had a more difficult time seeing the actual refrigerator for what it was, without making it more powerful than it needed to be.
"Is not life more than food?" Jesus, in Matthew 6:25
A fridge was an appliance to contain and cool perishable food. It was not, however, my enemy, a monster plotting to trap and torment me. Neither was it my unfailing friend, soothing and comforting every wound and issue. Yet, with my eating disorder behaviors, that was actually the power I gave to it. Simply stated, I viewed the fridge as larger than life.
For what I am doing, I do not understand. For what I will to do, that I do not practice: but what I hate, that I do. The Apostle Paul in Romans 7:15
That's part of the challenge of our food and weight issues, isn't it? We see things looming larger and more powerful in our lives than they should be. We use black and white thinking to decide if food, our disorders, our exercise patterns and our refrigerators are for or against us. Many times, we look at our fridges and see the enemy, a Goliath who will only defeat us.
Our heart issues can set us up for failure, for pain and for addictive and disorderly thoughts and actions. That's why God brings the issue up in the first place:

For as he thinketh in his heart, so is he… Proverbs 23:7
Keep thy heart with all diligence; for out of it are the issues of life. Proverbs 4:23
"For where your treasure is, there will your heart be also." Matthew 6:21; Luke 12:34
However, it's not hopeless. God has told us He will teach us concerning our life issues.
"I will instruct you and teach you in the way you should go: I will guide you with My eye." Psalm 32:8
And yes, that includes the fridge. If we can begin to realize our heart issues are about relationship with God, we can then confidently be assured we will have a heart after Him.
"And I will give them a heart to know me, that I am the LORD: and they shall be my people, and I will be their God: for they shall return unto me with their whole heart." Jeremiah 24:7
When we view things that way, perhaps, the fridge isn't quite so big.