"Once is never enough, never is and never was, uh-huh,
Here and now is all that counts, here and now in large amounts, uh-huh"
~ Adam Ant, "Room at the Top"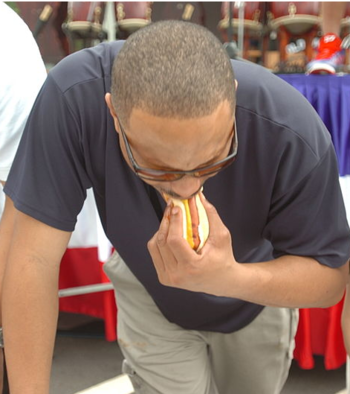 In our culture today, there is a go-for-the gusto acronym, "FOMO," "Fear of Missing Out." I see it influencing our behavior. It declares we need to pounce on living life, taking advantage of every opportunity, going for our dreams.
But I also see its addiction message too, mainly reflected in the bender/binge concept with which some struggle. Each of us must deal with our individual vulnerabilities concerning substances, food, chaotic behaviors and relationships – and any other tempting vice under the sun.
Two events which spring to the top of my mind are Fat Tuesday and Nathan's Famous Hot Dog Eating Contest.

Do not join those who drink too much wine
or gorge themselves on meat,
for drunkards and gluttons become poor,
and drowsiness clothes them in rags.
Proverbs 23:20-21
Fat Tuesday, a New Orleans spectacle, is all about that final blowout of everything hedonistic during Mardi Gras, before entering into the sacrifice of the Lent season. I'm sure, for example, you've heard about displays of wild partying in the street of New Orleans, along with the women who are encouraged to flash their breasts for the colorful Mardi Gras beads. And, of course, there is excessive drinking.
Fat Tuesday, however, expands to include indulging in any form of debauchery because, after all, each of us promises to "give up something we love" for Lent. After this bender, we'll commit to being holy.
And Nathan's Famous hot dog eating contest is not much better concerning the binge/bender reality.
On Independence Day, in America, besides parades, barbecues and flag waving, there is the Nathan's Famous International Hot Dog Eating Contest held in Coney Island.
Each year, competitive eaters (which IS classified as an actual sport) battle each other for the coveted distinction of biggest eater of hot dogs. These individuals are viewed as athletes and train in gluttony. The competitors, as an effective tactic, soak the franks and buns in water before eating them, enabling a faster consumption rate.
Last year's 2016 prize went to that of nine- time winner, Joey Chestnut; he consumed 70 hot dogs and buns in 10 minutes.
Be careful, however, that the exercise of your rights does not become a stumbling block to the weak. 1 Corinthians 8:9
Both Fat Tuesday and Nathan's contest have their own FOMO quality to them. There is the promised reward of prizes and pleasure. That can be the winning first place, acquiring the most beads, gaining attention, stuffing appetites, obliterating oneself through inebriation; it is the release of no longer being pent up in any way. That is soothing and alluring. Who doesn't want to feel free, limitless, relieved of burdens?
Who doesn't enjoy "indulging?"
Perhaps you and I have never even come close to Fat Tuesday or Nathan's contest. It still doesn't change the excessive disorder principle in effect for many of us, nonetheless.
We can get addicted to anything and anyone. We can view anything through this FOMO lens.
What is our bender? What is our binge? What is that FOMO promise luring us with "you will be complete, happy, peaceful and safe?"
Is it the unrestrained Friday or Saturday night of drinking, snorting, shooting and partying, getting "blotto?"

Is it the rewarding "treating yourself" spending spree, maxing our credit cards, descending into crippling debt, all for the thrill of that impulse buy?

Is it risking financial stability to bet on the cards or the horses "just one more time," ever- hoping this will be the big win which creates a life of luxury?

Is it the secluded, doors locked, carbohydrate binge of sugar, junk food or anything else labelled as our "comfort foods," with intention to purge it all after the feasting session is done?

Is it the reckless affair arranged in a designated rendezvous spot, involving a forbidden lover who makes us feel like we "can finally be ourselves?"
There's no cure for a disease here. "Fear of Missing Out" can, all too quickly, turn into devastating circumstances. Celebrating excess is not the answer.
This is not about shame; struggle is human.
For he knows how we are formed, he remembers that we are dust. Psalms 103:14
Our human vulnerability to anything deemed our addictive Achilles' heel does not lessen who we are as valuable individuals.
Rather, the caution concerning the seductive FOMO principle is a much-needed warning to stay mindful. To place it within the advisory context of Satan, himself…
Be sober, be vigilant; because your adversary the devil, as a roaring lion, walketh about, seeking whom he may devour. 1 Peter 5:8
This sober attitude concerning FOMO is, in essence, there to protect us, to make sure we're safe and healthy.
Let us not therefore judge one another anymore: but judge this rather, that no man put a stumbling block or an occasion to fall in his brother's way. Romans 14:13
Sometimes, it is not others for whom we lay these stumbling blocks. Sometimes, we only set them out for ourselves. Self-destruction, after all, is a very real tenet of addiction and unhealthy choices.
And certainly, this self-destruction of our lives is not the desire, will or plan of The Most High…
"For I know the thoughts that I think toward you…thoughts of peace and not of evil, to give you a future and a hope." Jeremiah 29:11
Therefore, honoring ourselves: spirit, mind, soul AND BODY is more like it.
So whether you eat or drink or whatever you do, do it all for the glory of Elohim. 1 Corinthians 10:31
Let's be honest: FOMO doesn't necessarily guarantee any glorification to Elohim; it doesn't guarantee a self-respecting attitude toward ourselves either.
The challenge- and it IS a challenge- of 1 Corinthians 10:31 is this: our healthy thoughts and actions in…
…What we eat…
…What we drink…
…Whatever we do…
"Whatever" covers thought, word, deed, choice, value system, delayed gratification- everything!
And we are all presented with a choice: to say yes or no when it comes to changing our thinking.
We can choose FOMO…or we can choose Divine Ways…
"… I have set before you life and death, blessings and curses. Now choose life, so that you and your children may live. Deuteronomy 30:19
Could it be, that when we choose The Most High's life option, over FOMO, we tap into far more than we could have dreamed for ourselves?
But as it is written, "Eye hath not seen, nor ear heard, neither have entered into the heart of man, the things which God hath prepared for them that love him." 1 Corinthians 2:9
There doesn't appear to be any "missing out" in that Divine Truth.