Wherefore seeing we also are compassed about with so great a cloud of witnesses, let us lay aside every weight, and the sin which doth so easily beset us, and let us run with patience the race that is set before us, Hebrews 12:1
Gaman is a Japanese term of Zen origin which means "enduring the seemingly unbearable with patience and dignity". The term is generally translated as "perseverance" or "patience."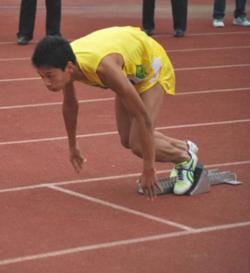 And, within Scripture, this principle is, indeed, a faith focal point.
… we glory in tribulations also: knowing that tribulation worketh patience. And patience, experience; and experience, hope: Romans 5:3-4
For ye have need of patience, that, after ye have done the will of God, ye might receive the promise. Hebrews 10:36
I don't know about your physical education experience when you were a kid, but my class always participated in the annual presidential physical fitness test.
Is anyone out there groaning yet?
As part of that test to assess kids' fitness levels, things like pushups, sit ups and pull ups were measured. But the thing which caused me the most dread- and the least success- was the 600 yard run.
Now, is anyone out there groaning?
If you're not familiar with